Silver Eagle Coins Near 21 Million in Sales, Hit All-Time Record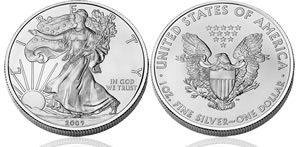 Demand has never been stronger for bullion American Silver Eagle Coins. Despite a trepid retreat in sales last month — the worst monthly figures of 2009, it still registered as the second best September ever for the coins. Moreover, the eagles hit an all time annual record high with still three months left in the year.
As of Monday, Oct. 5, the United States Mint has reported that 20,724,500 of the one-ounce .999 fine silver coins have been sold in 2009. In contrast, it sold 19,583,500 during all of 2008, which was the prior annual eagle sales record.
Bullion Silver Eagle Coin Sales: August 1986-2009*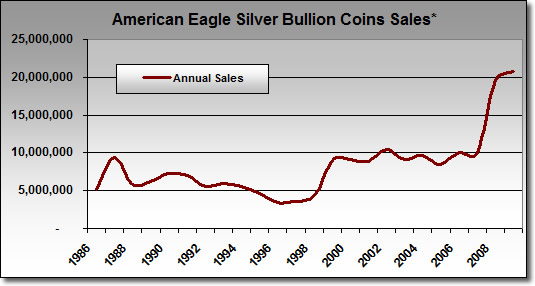 Sales as of Oct. 5, 2009
Toward the end of each December, the US Mint begins selling bullion eagles to its authorized dealers who then resell the coins to other dealers and the public. As such, it actually sold 20,583,000 of 2008-dated eagles last year. However, with the latest figures, 2009-dated eagles have past that as well. 2009 is a record year for Silver Eagles by any metric used.
The following table shows silver eagle sales by month:
2009 Silver Eagle Bullion Coin Sales by Month
January
February
March
April
May
June
July
August
September
1,900,000
2,125,000
3,132,000
2,518,000
1,904,500
2,245,000
2,810,000
2,130,000
1,703,000
The US Mint has not indicated when it will produce collector proof and uncirculated versions of the 2009 American Silver Eagle Coins, which were suspended earlier in the year. It provides the following message for these options at its online store:
Production of United States Mint American Eagle Silver Proof and Uncirculated Coins has been temporarily suspended because of unprecedented demand for American Eagle Silver Bullion Coins. Currently, all available silver bullion blanks are being allocated to the American Eagle Silver Bullion Coin Program, as the United States Mint is required by Public Law 99-61 to produce these coins "in quantities sufficient to meet public demand"
The message adds that production of the collector coins will resume when " sufficient inventories of silver bullion blanks can be acquired to meet market demand for all three American Eagle Silver Coin products."