American Silver Eagle Coins Set 2009 Annual Record at 28.7 Million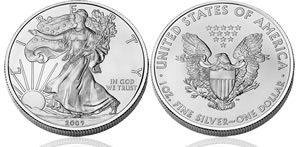 Anyone who reads the paper or pays attention to the news on the television or the radio can tell you that precious metal demand was extremely high in 2009. Owing to this almost insatiable appetite for silver, the United States Mint revealed record sales of its American Eagle Silver Bullion coins for the year.
The final 2009 tally from the US Mint places the one ounce silver bullion at 28,766,500, a leap of over 9 million coins above the previous annual record created just the year before — 2008 saw 19,583,500 of the Silver Eagles sold, which in itself was amazing. Previous to those two years, sales of the Eagles only broke the 10 million mark twice (in 2002 and 2006) since their introduction.
Last year's record could have been even higher had the Mint been able to keep up with demand. Throughout most of the first half of the year, from January 1st until June 15, the Mint had sales of the Silver Eagles on an allocation program. This meant authorized purchasers could not order as many of the coins as they would have liked, but were instead limited to a smaller ration. Add to this the fact that sales were completely suspended (in the latest round) from November 24 to December 6, and it would not be hard to imagine levels much higher if they had not been throttled by the Mint.
The Silver Eagle Bullion coins were authorized by Congress along with the Gold Bullion Eagles in the Bullion Coin Act of 1985. The coins were meant to be a simple and convenient way for investors to add precious metals to their portfolios with the quality and content of those purchases guaranteed by the US Government. According to law, the Mint is required to strike the bullion coins in sufficient quantity to meet demand, a task in which it struggled with in the last year.
News of the record sales is bittersweet for most collectors. As the Mint was producing the vast quantities of Silver Bullion Eagles, it had no supplies of blanks left to strike the collector proof or uncirculated American Silver Eagles, something which it normally does. Thus it was forced to announce their cancellation in October.
The Mint continued to sell the 2009 dated bullion coins into the first part of this year, but said it will make the 2010 Silver American Eagles available beginning on January 19, 2010.