2009 Silver Eagles Set Explosive Records: 16.6M Sold, 2.8M in July Alone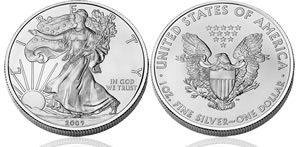 American Eagle Silver Bullion Coins were on a tear last month, earning the top spot for the most ever sold in July, and hitting the highest total during the first seven months of a year.
Following a May dip, June silver eagles sales soared to mark the third best month of an explosive year. But new US Mint figures show July coin sales were even more brilliant. The Mint sold 2,810,000 silver eagles for an increase of 565,000, or 25.2 percent, over the prior month.
More impressive, sales have been heating up during a season when they are traditionally the coldest. And year-over-year comparisons show July 2009 dominated same-month sales of past years, as the following chart illustrates:
Silver Eagle Bullion Coin Sales: July Only (1986-2009)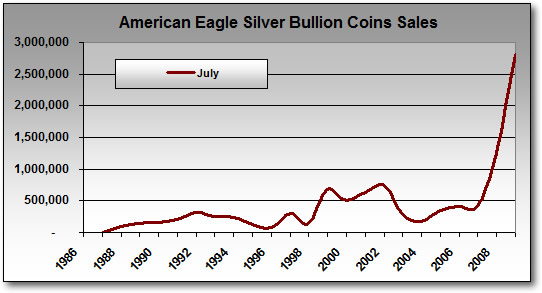 Despite being a summer month, July ranked as the second best month of 2009. An extremely suggestive hint for a continuing smashing sales year.
Monthly 2009 Silver Eagle Bullion Coin Sales
January
February
March
April
May
June
July
1,900,000
2,125,000
3,132,000
2,518,000
1,904,500
2,245,000
2,810,000
For the first seven months of this year, 16,634,500 silver eagles have been sold by the US Mint to its authorized purchasers, who in turn resell the bullion coins to investors, dealers, and directly to the public. By comparison, 20,583,000 were sold in record-setting 2008. At the current pace, within two months the 2008 record will be topped.
The following chart shows how hot this year has been for eagles compared to prior years.
Silver Eagle Bullion Coin Sales: January – July Totals (1986-2009)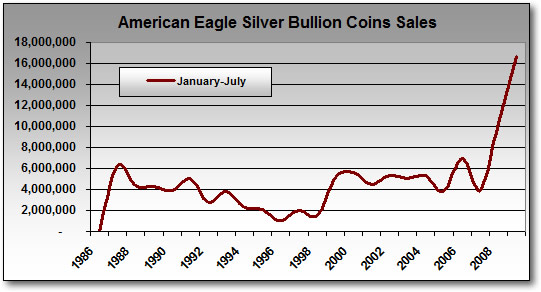 The US Mint has not indicated when it will produce collector proof and uncirculated 2009 eagles. The collector silver coins were suspended earlier in the year due to "unprecedented demand" for bullion versions and the resulting lack of silver coin blanks. Recent Mint notices seem to suggest the blank inventory problem has been resolved.