2009 American Eagle Silver Coins Pass 18 Million Sold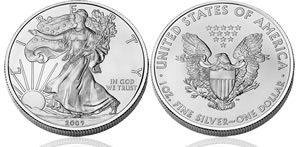 Before August has ended and with more than 4 months of this year remaining, 2009 Bullion American Eagle Silver Coins have smashed a hefty barrier and are on track for a new yearly record.
As of Tuesday, Aug. 25, the investor version of the silver eagles topped the 18 million marker — to be exact, 18,014,500 have been sold by the United States Mint.
While August numbers currently look like they may settle toward the bottom half of 2009 monthly sales, they are exceptional for a summer month when coins move slower. The following table shows how the eagles have been doing this year:
2009 Silver Eagle Bullion Coin Sales by Month
January
February
March
April
May
June
July
August*
1,900,000
2,125,000
3,132,000
2,518,000
1,904,500
2,245,000
2,810,000
1,380,000
*Figures are as of August 25.
The record-setting 2008 silver eagle tally of 20,583,000 is within site. At the current pace, it is possible it will be shattered at least by October and possibly by September.
The US Mint sells American Eagle bullion coins, which are the non collector versions, only to its authorized purchasers who then sell to dealers and/or directly to the public. The US Mint has not yet indicated when it will produce collector proof and uncirculated 2009 eagles.