1.9 Million Silver Eagle Bullion Coins Sold in May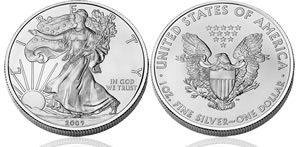 Sales of 2009 American Eagle Silver Bullion Coins were exceptionally strong in May. The silver coins continue their pace for a blowout, record performing year — potentially the best since the series began in 1986.
But… the coins have taken a step back from April and the spectacular numbers from March.
The US Mint sold 1,904,500 of the eagles in May to their authorized purchasers. The tally is the fourth best month of the year, slightly above January figures.
As of Wednesday, June 10, the latest sales figures by month are:
2009 Silver Eagle Bullion Coins by Month
January
February
March
April
May
June
1 oz
1,900,000
2,125,000
3,132,000
2,518,000
1,904,500
777,000
With the year not yet half complete, 12,356,500 silver eagle bullion coins have been purchased. As a perspective, 19,583,500 of the coins were sold in record-breaking 2008.
The US Mint still has not indicated when the production of the proof and uncirculated versions will begin. The collector silver eagles were suspended earlier in the year due to "unprecedented demand" for the bullion coins and the resulting lack of silver coin blanks.