American Eagle Silver Bullion Coins Smash Sales Records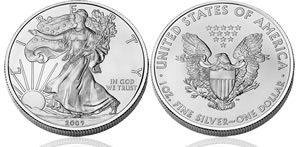 2009 American Eagle Silver Bullion Coins have shattered past monthly sales records, and are racing toward a dramatic historic yearly total.
Earlier this year, Silver Coins Today showed record eagle sales for the first two months of 2009. Demand for the eagles by then had hit an all time February high and recorded the second best January since the coins launched in 1986.
A CoinNews article on Tuesday entitled 2009 Silver Eagle Bullion Coins Scorching Hot illustrated a "record breaking" streak for the coin series in two performance graphs. By taking the CoinNews graphs and extending them further back to 1986, an even greater perspective for eagle demand may be seen. For the first four months of this year, an eye-popping 9,675,000 silver eagles were sold.
American Eagle Silver Bullion Coin Sales Total, January-April (1986-2009)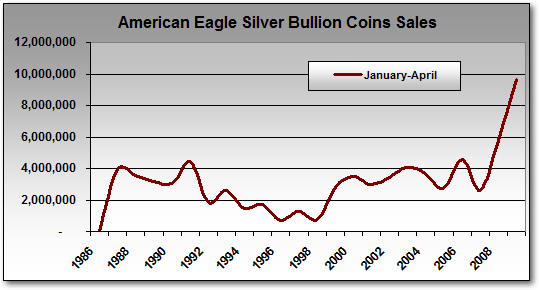 That translates to an astonishing annual rate of over 29 million coins, which would far surpass last year's record total of 19,583,500. Further, in comparing month-by-month sales, this year's February, March and April rank at the very top going all the way back to 1986.
American Eagle Silver Bullion Coin Monthly Sales, January-April (1986-2009)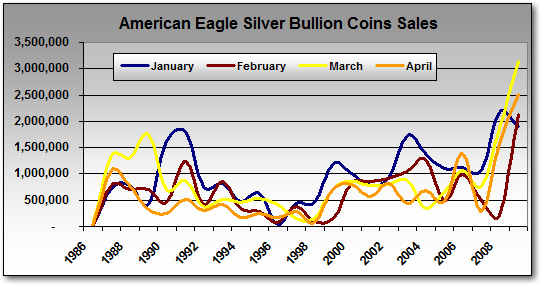 Unfortunately, the blowout demand has resulted in at least two negative side affects. The first is the collector silver eagle suspension. The US Mint has said the "unprecedented demand" for the bullion versions has stopped any 2009 proof and uncirculated coins from being minted until:
"Sufficient inventories of silver bullion blanks can be acquired to meet market demand for all three American Eagle Silver Coin products"
Law requires the Mint to first meet demand for the bullion versions. As such, there is no telling when the Mint, if ever in 2009, will begin striking the collector proof and uncirculated options.
The second negative facet is the simple economic nature of supply and demand. The high demand and smaller supply has resulted in increased premiums. In a "normal" year, it was possible to purchase one of the coins for less than $2.00 over the daily silver spot price. That has not been the case in 2009.
As examples, check out current ebay auctions for American Eagle Silver Coins
, or run a Google/Yahoo search for dealers selling them. The bullion coins are commanding much higher premiums compared to prior years, and buyers are evidently not having any problems paying more.
For reference, the following two tables show US Mint sales of the silver coins by month and totals from 2000-2009:
2000
2001
2002
2003
2004
January
1,011,500
779,500
913,500
1,725,000
1,392,500
February
808,500
846,500
905,000
1,055,000
1,281,000
March
851,500
786,000
797,000
876,000
348,000
April
804,500
562,000
815,000
434,000
680,000
January –
April Total
3,476,000
2,974,000
3,430,500
4,090,000
3,701,500
2005
2006
2007
2008
2009
January
1,095,000
1,115,000
1,070,000
2,170,000
1,900,000
February
500,000
993,000
500,000
200,000
2,125,000
March
650,000
1,072,000
762,000
1,855,000
3,132,000
April
480,000
1,395,000
280,000
1,584,000
2,518,000
January –
April Total
2,725,000
4,575,000
2,612,000
5,809,000
9,675,000
To date, March has been the most active month for the eagles.