2011-W American Silver Eagle Uncirculated Coin Release Date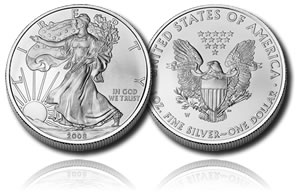 The United States Mint has provided a release date for the 2011-W American Silver Eagle Uncirculated Coin on its online "Scheduled Products Listing" page. According to that schedule, the uncirculated Silver Eagle will be available on September 15, 2011.
While the release date is subject to change, it indicates that the numismatic strike will make a return to the Mint's line-up. The uncirculated coin has been missing as a Mint product offering since it last appeared in 2008.
The United States Mint opted to cancel production of the collector grade coin in 2009 and 2010. Both of those years saw unprecedented demand for the related bullion American Silver Eagle which the Mint was required by law (at the time) to produce to meet demand. Then, the Mint diverted available resources, including all incoming silver blank planchets, toward bullion production.
Since, the United States Mint has made strides in increasing its available blank planchet supplies and the law for Silver Eagles changed. Thus, even with investors still turning to the bullion coin in vast numbers, the Mint has already been producing the numismatic 2011-W American Silver Eagle Proof Coin which was released on June 30, 2011. The new uncirculated coin will make the third issue in 2011.
All three versions of the American Silver Eagle (the bullion, the proof and the uncirculated) are struck from one ounce of .999 fine silver. The obverse contains the classic image of Adolph A. Weinman's "Walking Liberty" which was first seen on the half dollar coin issued from 1916 to 1947. The reverse contains John Mercanti's heraldic Eagle with shield.
The uncirculated coin is similar in appearance to the related bullion version. It can be distinguished by the fact that it is struck from burnished blanks and carries a West Point "W" mintmark.
Silver Eagles date back to 1986 when both the bullion and the proof versions first appeared. They were joined in 2006 by the uncirculated coin which was produced annually for the next three years before being cancelled as previously mentioned. During those three years, over 1.6 million of the Eagles were sold.
No price has been announced for the 2011-W American Silver Eagle Uncirculated Coin. When it last appeared in 2008 it was sold for $25.95. However, the price of silver that year averaged just under $15 an ounce. The precious metal has jumped significantly since then with recent prices right around $40 an ounce. That likely indicates that the uncirculated coin will be listed with a much higher price than what it commanded three years ago.
[Editor's note: This article was updated to reflect a revised September 15 release date. The Mint first scheduled the coin's release for September 29.]