Coin Modernization Law Changes Silver Eagles and ATB Bullion Coins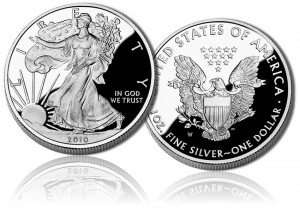 President Barack Obama signed a new bill into law on Tuesday, December 14, that deals with coin modernization research, specification changes to America the Beautiful Silver Bullion Coins and guarantees the yearly production of collector American Silver Eagles.
The Coin Modernization, Oversight, and Continuity Act of 2010 was introduced into the House of Representatives (H.R. 6162) by Congressman Melvin Watt of North Carolina on September 22, 2010. It was largely based on information gathered during a July 2010 House Subcommittee hearing on Domestic Monetary Policy and Technology, which is chaired by Watt.
Coin Modernization
The main purpose of the Act is to enable the United States Mint to research and test less expensive alloy alternatives for coins. The new law also requires the Treasury Secretary to submit a report to Congress every two years with possible coinage composition changes. Any coin modernization would likely involve the Lincoln cent and Jefferson nickel which cost more to produce than their corresponding face values — $0.0162 and $0.603, respectively, according to the Mint's 2009 Fiscal Year Report. In making modernization recommendations, the Secretary must insure that any proposed changes would not cause significant issues for commerce such as requiring new equipment for the coins to be accepted in vending machines.
American Silver Eagle Guarantee
The Coin Modernization Act also modifies current law for American Eagles, including the most popular Silver Eagles. Previous, the US Mint was required to strike the bullion versions to meet public demand. That requirement proved to be a burden on the Mint in the last few years and precipitated the cancellation of the uncirculated and proof 2009 Silver Eagles as well as the uncirculated 2010 Silver Eagle. Now the Treasury Secretary has the authority to determine the qualities and quantities of American Eagles that would best serve the public interest. This enables the US Mint to produce the proof and/or uncirculated eagles, including gold, even if they are not meeting bullion demand.
Specification Changes for America the Beautiful Silver Bullion Coins
Finally, the last change enacted by the new law modifies the specifications for America the Beautiful Silver Bullion Coins. Instead of requiring the massive five ounce .999 fine silver strikes to be "exact duplicates" of the Mint's America the Beautiful Quarters® like the initial authorizing law demanded, the ATB silver bullion coins can now be struck with a "likenesses" of the quarters instead. Associated changes also modify the required diameter of the bullion coins to be in the 2.5 inch to 3.0 inch range instead of exactly 3.0 inches. Also, the edge inscribed weight and fineness requirement present on the initial law has also been removed.
The Coin Modernization, Oversight, and Continuity Act of 2010 officially became Public Law 111-302.