2010 Proof Silver Eagle Sales Debut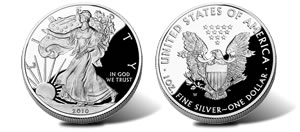 Collectors wasted no time in purchasing more than a quarter of a million 2010 Proof Silver Eagles, indicating that there truly was pent-up demand for the silver coins.
US Mint customers ordered 273,212 of them in less than three full days, according to the most recent sales figures. Those include all Proof Silver Eagle sales from their release on Friday, November 19, 2010, through this past Sunday, November 21, 2010.
The sales figures are remarkable for the fact that in just three days they represents a significant portion of individual annual sales from prior years. In 2008, only 700,797 were purchased. 2007 sales figures came in only slightly higher at 821,759. 2010 Proof Silver Eagle demand could lead sales to a recent year high despite the fact that they may only be available for a few months.
While the demand is not terribly surprising, it does acknowledge the vast Proof Silver Eagle collector base. But that was also revealed Friday when many collectors experienced ordering issues just as the US Mint had forewarned. Those unable or unwilling to delay their purchase slammed the Mint's systems during the first few hours, bringing their web-based ordering system to a crawl. The Mint's toll-free phone ordering system did not fare much better. Issues appeared to resolve themselves, however, within a few hours.
All of this purchasing and ordering excitement can partially be attributed to the circumstances surrounding the Proof Silver Eagle in recent years — its early retirement in 2008, complete cancellation in 2009, and questions during most of this year as to whether the Proof Silver Eagle would ever see the light of day.
Then in October, the US Mint announced they would indeed issue the collector grade .999 fine silver coin on November 19, stating they had been working with their planchets suppliers to triple the number of silver blanks available. This allowed the Mint to continue to produce bullion eagles to meet the record demand and still offer the proof.
The 2010 Proof Silver Eagle may be ordered directly from the Mint for $45.95 each. There is a household limit of 100 coins. Orders may be placed on its website (http://catalog.usmint.gov/) or its toll free number 1-800-USA-MINT (872-6468).