2010 Royal Canadian Mint Silver Proof Set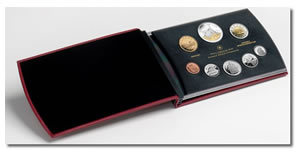 The 2010 Royal Canadian Mint Silver Proof Set is now available to order and literally includes a flagship as its premier coin. Consisting of eight different coins, with all except two struck from sterling silver, the set is sure to be extremely popular with collectors from around the world.
At the heart of the collection is a proof silver dollar commemorating the 100th anniversary of the Royal Canadian Navy — established by the Naval Service Act on May 4, 1910.
With only the light cruiser HMCS Rainbow to its name by the end of that year, the Canadian Navy certainly did have its work cut out for it. But, by the end of World War II, the Navy had built up a ship registry which included an astonishing 122 Flower Class Corvettes, a feat which earned them the position of the third largest Navy in the world. It is one of these Corvettes which is featured on the silver dollar.
Shown in action on the high seas, the HMCS Sackville shines prominently in proof condition on the dollar with the water feature plated in gold to add brilliance. The pennant number of the Sackville is shown proudly on its hull with its motto (Ready Aye Ready/Prêt Oui Prêt) surrounding the design in Morse Code. It was designed by Yves Bérubé.
The 2010 Proof Set also included the following coins:
2 Dollar – features a golden encircled polar bear struck from sterling silver and designed by Brent Townsend.
Common Loon Dollar – struck from Nickel electroplated with bronze, this coin was designed by Ralph-Robert Carmichael.
50 Cents – containing an image of Canada's Coat of Arms, this rare coin is a nice sterling silver addition to the collection.
25 Cents – the sterling silver quarter dollar design features a caribou designed by Emmanuel Hahn that first appeared on the quarter in 1937.
10 Cents – Emanuel Hahn also designed the dime which features a representation of Canada's famous Bluenose schooner struck from sterling silver which also first appeared in 1937.
5 Cents – struck from sterling silver, a beaver sitting on a lodge is shown on the 5 cent piece (commonly called a nickel). It was designed by G.E. Kruger-Gray and first graced the coin in 1937.
1 Cent – closing out the set is the one cent coin struck from copper. Shown on its reverse is a Maple Leaf Branch designed by G.E. Kruger-Gray which debuted on the 1937 cent.
Ordering Information
Only 55,000 of these sets will be issued world-wide and is available now from the Royal Canadian Mint for CAD $99.95.
To order from anywhere in the world, visit:
Royal Canadian Mint Product Page for 2010 Proof Set
Canadian and US collectors may also purchase the set through the Mint's toll-free number:
1-800-267-1871 (Canada)
1-800-268-6468 (US)
Of note, the gold plated HMCS Sackville silver dollar is only available in this set.
Coins within the Royal Canadian Mint 2010 Proof Set:
Face value
Composition
Weight
Diameter
Edge
Proof Dollar*
92.5% silver,
7.5% copper
25.175
36.07
Reeded
2 dollars
92.5% silver,
7.5% copper
8.83
28.0
Interrupted serrations
1 dollar
Nickel electroplated with bronze
7.0
11-sided

26.50

Plain
50 cents
92.5% silver,
7.5% copper
9.3
27.13
Reeded
25 cents
5.9
23.88
10 cents
2.4
18.05
5 cents
5.35
21.20
Plain
1 cent
Copper
2.5
19.1
About the Royal Canadian Mint
The Royal Canadian Mint is the Crown Corporation responsible for the minting and distribution of Canada's circulation coins. An ISO 9001-2008 certified company, the Mint is recognized as one of the largest and most versatile mints in the world, offering a wide range of specialized, high quality coinage products and related services on an international scale.
The Mint is an Official Supporter of the Vancouver 2010 Olympic and Paralympic Winter Games and has undertaken to produce the most extensive circulation coin program in relation to the Olympic Games ever conceived by any mint worldwide, while also offering limited mintage collector coins and sets. Visit www.mint.ca/2010 for Vancouver 2010 keepsakes and gifts.