2011 American Silver Eagle Proof Coin Release Date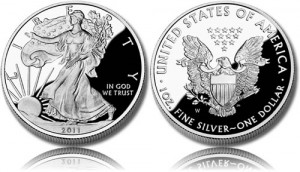 The United States Mint has scheduled a release date of June 30 for the 2011 American Silver Eagle proof coin. Previously, the US Mint had only provided a tentative launch date, stating it would be available "by July 6, 2011."
The US Mint has not published the price. The 2010-dated American Silver Eagle proof coin had a price tag of $45.95. Buyers snapped up 860,000 of them before they sold out. Given that the cost of silver is significantly higher this year, there is a good chance — if silver prices remain high — that the coins will be listed for more than $50 a piece.
The bullion version of the 2011 American Silver Eagle was released through the Mint's network of authorized purchasers on January 3. More than 10 million have been sold already this year. The bullion silver coins, unlike their numismatic proof coin counterparts, do not carry the special collector finish nor the "W" mint mark denoting their production at West Point. Other details between the two are the same, including their:
obverse and reverse designs,
.999 fine silver composition,
40.6 mm diameter and
1-ounce weight
The 2011 Silver Eagle Proof Coin is not the only numismatic silver issue from the US Mint in 2011. The Mint has already released this year's two commemorative silver coins — the US Army Silver Dollars and the Medal of Honor Silver Dollars. It has also issued the annual 2011 Silver Proof Set. The America the Beautiful Quarters Silver Proof Set is scheduled for release next with its launch date of March 17.
With an unannounced release date for each, the Mint will also issue 10 more numismatic silver coins this year. These include the 5-ounce:
These coins have the same designs as the respective dated America the Beautiful Quarters® that honor the national parks or national sites of: Hot Springs, Yellowstone, Yosemite, Grand Canyon, Mount Hood, Gettysburg, Glacier, Olympic, Vicksburg and Chickasaw.
The Mint last year issued the bullion versions of the 2010-dated 5-ounce silver coins through its network of authorized purchasers. It said the numismatic uncirculated versions would be available by the first quarter of 2011. The US Mint has not yet issued the bullion 5-ounce silver coins dated for this year. All the uncirculated coins are listed on the Mint's product schedule with a "TBD" or "To Be Determined" release date.