2011 Australian Kangaroo at Sunset 1/5 Oz Silver Proof Coin Available
The latest 2011 Kangaroo at Sunset 1/5 Ounce Silver Proof Coin is available from the Royal Australian Mint. These 99.9% pure silver coins continue a series featuring a simplistically elegant design first seen on a Royal Australian Mint gold coin in 2007.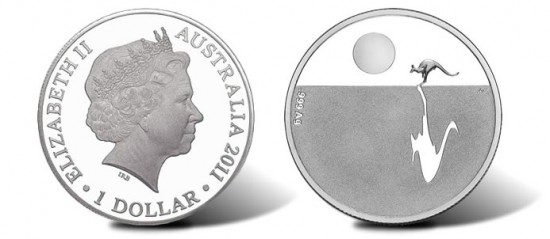 That design immediately gained intense interest and accolades from collectors around the world as the extremely limited mintage of the debut gold coins were snapped up in only four days. Recognizing the allure of the design, the Royal Australian Mint started replicating it on one ounce silver coins in 2009.
The Kangaroo at Sunset silver coins proved to be just as popular as their gold counterparts, leading the Mint to expand its silver offerings. In 2010, a 1/5 ounce Kangaroo at Sunset Silver Proof Coin was introduced with a mintage cap of 5,000 coins. It sold out in short order. That sell-out is likely to be repeated with the 2011 coins as they too have a maximum mintage of 5,000.
According to the Royal Australian Mint, the 2011 Kangaroo at Sunset 1/5 Oz Silver Proof Coin sells for AUD $65.00, or AUD $59.09 for international orders. Visit http://www.ramint.gov.au/ to place an order.
Each proof coin features a diameter of 21.69 mm, a gross weight of 6.03 grams, and ships in a unique presentation case with an illustrated shipper.
Kangaroo at Sunset Coin Design
Shown on the reverse of the coin is world renowned sculptor Wojciech Pietranik's design depicting a single kangaroo against the outback horizon at dusk. The setting sun casts an inspiring reflective shadow of the kangaroo. Inscriptions include ".999 Ag."
The obverse of the proof coin portrays a portrait of Queen Elizabeth II of England by Ian Rank-Broadley. She is surrounded by the inscriptions of "ELIZABETH II," "AUSTRALIA 2011" and "ONE DOLLAR."
About the Royal Australian Mint
The Royal Australian Mint (http://www.ramint.gov.au/) was established as a facility owned by the Commonwealth and independent from the branches of the Royal Mint of England as were the other major minting facilities in Australia at the time. Since its creation, the Mint has been responsible for producing the decimal coinage used by the country for use in commerce. It has also expanded its offerings to many proof and uncirculated coins sought out by coin collectors from around the world.