5 Star Generals Commemorative Coin Act Passes House, Awaits Senate Action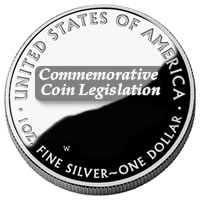 On Thursday, May 20, 2010 the U.S. House passed the 5 Star Generals Commemorative Coin Act.
The act would create three coins commemorating America's Five-Star Generals who taught at or attended the U.S. Army Command and General Staff College (CGSC). If the act becomes law, the United States Mint would begin production on these coins in 2013.
The three coin denominations include clad 50-cent coins, silver one dollar coins, and gold five dollar coins. Maximum mintages would be 750,000 half-dollars, 500,000 silver dollars, and 100,000 five dollar gold coins.
The coin designs would feature a portrait of Generals George Marshall, Douglas MacArthur, Dwight Eisenhower, Henry "Hap" Arnold, and Omar Bradley. Each of these World War II Generals led U.S. forces during the war and was also an alumnus of the CGSC.
Rep. Dennis Moore sponsored and introduced the 5 Star Generals Commemorative Coin Act, numbered H.R. 1177, on February 25, 2009. It passed by a voice vote, with bipartisan support of 300 cosponsors
In a statement, Rep. Moore said, "These men served their country in unforgettable ways. We can never fully show our gratitude for their service, but we can honor them by continuing to support the Command and General Staff College's tradition of training the world's finest military officers."
All sales of the coins would include surcharges for the Command and General Staff College Foundation, to help finance their support of the college.
The intended release of the commemorative coins, according to the bill, would coincide with the CGSC's 132nd Anniversary celebration.
The Senate has a similar bill, S. 455, which was introduced by Sen. Pat Roberts on February 23, 2009. Either this version, or the House bill, must pass through both houses and then get signed by the President for the coins to become a reality.
There are only two silver commemorative coin themes allowed per year. One is already scheduled in 2013 to honor the founding of the Girl Scouts USA with Girl Scouts Silver Commemorative Coins