America the Beautiful Silver Bullion Coins Sales Debut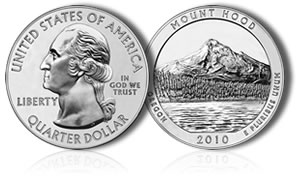 The United States Mint today released the debuting sales for the five ounce America the Beautiful Silver Bullion Coins.
After a delay from their originally scheduled launch, the US Mint conditionally released the bullion coins on Friday, December 10, 2010. US Mint Authorized Purchasers (AP's) or resellers ordered 75,000 of the available 165,000 on that day, leaving 90,000 remaining.
Enormous demand led to expectations of a quick sell out for each of the five 2010 5 Ounce Silver Bullion Coins. However, new conditions for US Mint resellers added unexpected wrinkles for a distribution network which has already sold more than 34 million American Eagle Silver bullion coins this year.
While AP's can easily and quickly sell in volume to companies like coin and precious metals dealers, most are not set up to work in a retail environment and offer coins directly to consumers. However, according to the new terms and conditions in reselling America the Beautiful Silver Bullion coins, that is exactly what they must do. Those conditions were put in place following price gouging complaints from collectors on the day the .999 fine silver coins were first scheduled for release.
Most Authorized Purchasers are now weighing their options, with many yet to announce on whether they will participate in offering the coins. In that respect, the opening 75,000 sales could be perceived as higher than expected given the circumstances.
33,000 of each of the five 2010 America the Beautiful coin designs have been authorized for the debuting series. US Mint Authorized Purchasers have until Friday, December 17, at 3:00 PM ET, to place an order. There are 11 of them that may do so. For AP's who do not take their allotted 15,000 coins — 3,000 per design — other AP's may step in on Monday, December 20, to order the excess.
The following is an updated list of the Authorized Purchasers as provided by the US Mint on Monday:
United States Mint Authorized Purchasers List

A-Mark Precious Metals
(Los Angeles )

Silver, Gold, Platinum

American Precious Metals Exchange, Inc.
(Oklahoma)

Silver only

Coins 'N Things Inc.
(Massachusetts)

Silver, Gold, Platinum

Dillon Gage Incorporated of Dallas
(Texas)

Silver only

MTB
(New York)

Silver, Gold, Platinum

Prudential Securities Inc.
(New York)

Silver, Gold, Platinum

Scotia Mocatta
(New York)

Silver, Gold, Platinum

The Gold Center
(Illinois)

Silver only

Jack Hunt Coin Broker
(New York)

Silver only

Commerzbank
(New York)

Silver and gold

Fidelitrade
(Delaware)

Silver only
Sales of collector 2010 America the Beautiful Uncirculated Coins will begin in early 2011. These will be sold directly by the Mint to the public, have a uncirculated finish and feature the "P" mintmark. The Mint has authorized 27,000 for each design.
Like the companion America the Beautiful Quarters®, the 2010 silver coins honor Hot Springs National Park (Arkansas), Yellowstone National Park (Wyoming), Yosemite National Park (California), Grand Canyon National Park (Arizona) and Mount Hood National Forest (Oregon).