ATB 5-Ounce Silver Bullion Coin Prices Decline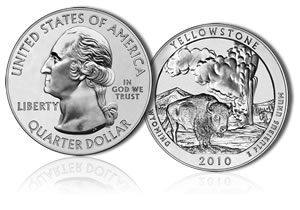 Secondary market prices for the 5-ounce 2010 America the Beautiful Silver Bullion Coins™ are on the decline. While not entirely surprising to all, the news is welcomed by many who have been patiently waiting for the market to correct what they felt were unrealistic price points.
The ATB series is no stranger to cost concerns. The planned December 6, 2010, release was put on hold by the US Mint after multiple reports of premiums that brought single coin prices into the $300 range.
After modifying the agreement with its authorized purchasers, the Mint finally offered the 5-ounce silver bullion coins four days later on December 10. Under the new agreement, the AP's could not charge more than a 10% premium per coin above what they paid for them, plus a small shipping and handling fee. Based on the approximate price of an ounce of silver during that time, plus the Mint's own premium of $9.75 per coin and the allowable 10% AP premium, this would have placed the cost of each coin between $160-$170.
However, levels still held at 200% – 300% above the AP price by the time the 5-ounce silver bullion coins reached the secondary market. This meant that single ungraded coins at times were being sold for well over $500. A complete 2010 ATB Silver Bullion five coin set could go for over $3000.
Looking solely at the online auction site eBay during the first month of availability, single 2010 America the Beautiful Silver Bullion Coins were selling for an average of around $500. Five coin sets were averaging over $2,400. Jump ahead to the next month and ungraded set prices fell to around $2,000. But surprisingly, the single coins rose slightly to the $540 range.
Current Prices
Prices are falling today. Ungraded five-coin sets are currently available on eBay with "Buy It Now" listings for just over $1,600. Single coins are harder to find but even slabbed examples can now be found for under $400.
Of course, those opting for graded ATB coins are still paying very high premiums. Prices of over $700 per coin are typical for MS69 grades. MS69 five-coin sets start at $3,500 and go up from there.
With a low mintage of 33,000 per coin, the 2010 America the Beautiful Silver Bullion Coins may always demand higher than expected prices, but it is obvious that the market is pulling their premiums lower over time.
One factor still yet to play out is the 2010 America the Beautiful 5 Ounce Uncirculated Coins. These collector versions will be sold directly by the US Mint to the public later this year. They are limited to 27,000 per design. The Mint has not published prices or announced when they will be released.