Aurora Australis $5 Silver Hologram Coin from Royal Australian Mint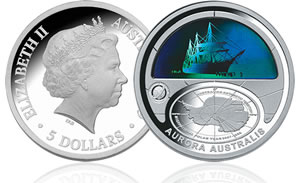 The fourth and final silver coin from the Royal Australian Mint's International Polar Year series has been struck and given its name, the Aurora Australis.
The $5 silver proof commemorative is unique in the series with its dynamic hologram design that portrays the mesmerizing and colourful Aurora Australis surrounding a sailing ship.
The design by W. Pietranik also includes features from each of three preceding coins within the series, as Janinin Murphy, CEO of the Royal Australian Mint, described in Mint Issue #29:
"In an exciting finale to our International Polar Year coin series we have released a fourth coin which captures the amazing colours of the Aurora Australis. This coin also includes, in hologram form, design elements from the preceding coins in the series; a map of key scientific base camps, the Antarctic Skua in flight and the first Australians to reach the South Magnetic Pole."
The Aurora Australis, also referred to as the southern polar lights, are produced by charged Sun particles (the solar wind) colliding within the Earth's magnetic field.
Specifications, prices and order information
The 2009 Aurora Australis silver coin is struck from 99.9% pure silver, has a mass of 1 1/7 troy ounces, a diameter of 38.74 mm and is limited to a mintage of 12,500.
The Royal Australian Mint has the coin currently listed for:
$95.00 (GST)
$86.36 (International)
Orders may be placed through the Mint online store:

2009 $5 Silver Proof – Aurora Australis coin
The Mint indicates the coin will not begin shipping until March.
2009 Aurora Australis coin image