Braille Commemorative Silver Dollars Sales End Dec. 11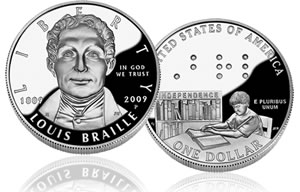 All United States Mint product options for commemorative Braille Silver Dollars will go off sale on Dec. 11 at 5:00 PM ET, the Mint announced last week.
The silver coins celebrate the bicentennial birth of Louis Braille, who is most remembered for inventing the Braille system for reading and writing by the blind and visually impaired.
The Louis Braille Bicentennial Braille Literacy Commemorative Coin Act authorizes the coins, but mandates that they can only be issued "during the 1-year period beginning January 1, 2009." The front page of the US Mint online store has the following message explaining the deadline:
The 2009 Louis Braille Bicentennial Silver Dollar products must be issued by December 31st. In order to meet these requirements, the United States Mint is only accepting orders for these products until December 11th at 5:00 p.m. ET. Please note that all credit card and billing issues must be resolved prior to December 11th.
The four available products and their latest US Mint sales figures as of Sunday, Nov. 8, follow:
Braille Bicentennial Proof Silver Dollar, $41.95 – Sales of 128,235

Braille Bicentennial Uncirculated Silver Dollar, $33.95 – Sales of 46,795

United States Mint Braille Education Set, $44.95 – Sales of 8,385

Braille Bicentennial Uncirculated Silver Dollar in Easy-Open Capsule, $33.95 – Sales of 21,436
Each may be ordered directly from the US Mint website at http://www.usmint.gov/, or by calling their toll free telephone number at 1-800-USA-MINT (872-6468). Hearing and speech-impaired customers may order by calling 1-888-321-MINT (6468).
The 2009 Louis Braille Bicentennial Silver Dollar features a portrait of Louis Braille on the obverse (heads side). The reverse (tails side) design depicts a child reading a Braille book. The word INDEPENDENCE is displayed on a bookshelf behind the child and the word Braille, abbreviated BRL in Braille code, is featured in the upper field.
The National Federation of the Blind (NFB) receives $10 for each Bicentennial Braille coin sale in order to further its programs to promote Braille literacy.