NFB Asks Public to Buy Braille Silver Dollars, As Two Fly In Space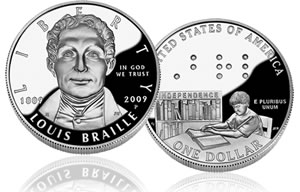 Two commemorative Braille Dollars launched into space on Monday aboard Atlantis on the STS-125 mission to service NASA's Hubble Space Telescope.
The flight of the coins is a special promotional event that National Federation of the Blind (NFB) hopes will remind everyone to purchase one of the proof or uncirculated silver coins.
The Braille Silver Dollars commemorate the 200th anniversary of the birth of Louis Braille, inventor of the reading and writing code for the blind. While two of these coins fly in space for 11 days, the NFB has launched a program to sell 50,000 of them before shuttle Atlantis returns.
"Blind children in America are facing a crisis—only 10 percent of them are learning Braille, leaving 90 percent illiterate," said Mark Riccobono, executive director of the National Federation of the Blind Jernigan Institute. "It is imperative that the general public act swiftly to reverse illiteracy among blind children. That is why we are asking everyone to purchase a Louis Braille Bicentennial Silver Dollar before Atlantis returns to earth."
According to the most recent United States Mint figures, nearly 150,000 of the coins have been sold since they went on sale March 26. The Mint is authorized to sell up to 400,000. For every commemorative silver dollar sold, $10 is paid to NFB to further its programs to promote Braille literacy.
The NFB has not been shy in telling the public the money is needed, as these two embedded videos help to explain why:
The commemorative coins may be ordered on the following US Mint pages:
Louis Braille Bicentennial Proof Silver Dollar – $41.95
Louis Braille Bicentennial Uncirculated Silver Dollar – $33.95
Braille Uncirculated Silver Dollar in Easy-Open Capsule – $33.95
The US Mint also accepts orders at 1-800-USA-MINT (872-6468). Hearing- and speech-impaired customers may order by calling 1-888-321-MINT (6468).