Chinese Outlaws of the Marsh Silver Commemorative Coins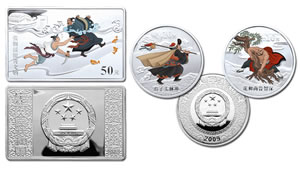 The People's Bank of China has created a new colorful series of coins celebrating the characters from a well-known and beloved novel written in the fourteenth century. The Chinese Commemorative "Outlaws of the Marsh" Silver Coins consist of two round 1 ounce coins and one rectangular 5 ounce coin.
The "Outlaws of the Marsh" is attributed to author Shi Naian and conveys the story of 108 outlaws who lived during the Song Dynasty.
It is said that these individuals fought against the imperial armies but were granted amnesty by the emperor who eventually recruited them to serve as a military contingent. In this capacity, these former enemies helped to protect the empire from foreign invaders and rebels.
Silver Coins Designs, Images, Specifications, Mintage Limits
The first coin in the series features Lin Chong. The novel places Lin Chong's height at 6 foot 4 inches with fierce eyes and a cat-like head that earned him the nickname 'Panther Head.'
He spent his earlier life as a martial arts instructor to the Imperial Guards who numbered over 800,000.
The second coin showcases Lu Zhishen known as the 'Flowery Monk' uprooting a willow tree. Lu Zhishen is the first hero the "Outlaws of the Marsh" focuses on and he comes to be the ideal example of loyalty, strength, justice and brashness.
Both of these 10 Yuan coins are struck from 1 troy ounce of .999 fine silver to proof quality. A maximum mintage of 30,000 two-coin sets will be issued.
The rectangular silver coin included as part of the series honoring the 100 chapter novel is 'Zhang Shun capturing Huan Weneing'.
According to the story, Zhang Shun could hold his breath underwater for seven days and seven nights giving him the nickname 'White Streak in the Waves.'
His successful capture of Huan Weneing enabled the heroes to succeed in their mission of obtaining the royal birthday gifts.
The Zhang Shun coin is struck from 5 ounces of .999 fine silver and carries a face value of 50 Yuan. A maximum of 10,000 of these coins will be created.
To purchase these fine coins from the People's Bank of China, visit the official distributor Panda America at www.pandaamerica.com or call 800-4-PANDAS.