2009 Chinese Silver Coins Celebrate 60th Anniversary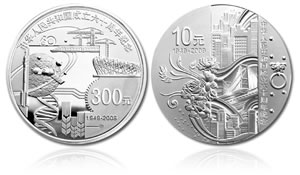 Two new silver coins from China have been released to help celebrate the 60th Anniversary of their independence. Each coin reflects the power and artistry of a country that has grown to become one of the world's major powers.
The obverse (heads side) of each coin contains China's national emblem set in a frieze of peonies which are symbols of prosperity in the Chinese culture. The emblem itself consists of the famous monument Tiananmen under the light of five stars, framed with ears of grain and a cogwheel.
Tiananmen was originally built in 1420 and has since served as the entrance to the Imperial City. In fact, its name means "Gate of Heavenly Peace." The cogwheel in the emblem represents the peasantry while the ears of grain signify they working class. The five stars stand for the various nationalities that comprise the Chinese people.
The reverse (tails side) of the 1 ounce coin shows features of a modern Chinese city including skyscrapers, bridges and a high speed train. The 1 kilo coin includes various components such as rockets, satellites and the Beijing Olympic Stadium on its reverse. Both include an inscription written in Chinese characters that states "In commemoration of the 60th anniversary of the founding of the People's Republic of China, 1949-2009."
China 60th Anniversary 1 oz Silver Coin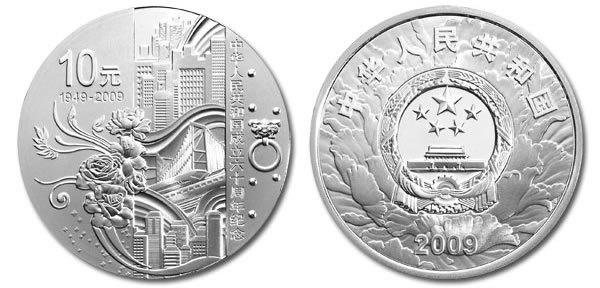 Only 6,000 of the 1 kilo silver coins will be minted along with a maximum of 100,000 of the one ounce size. Each is struck to proof quality from 99.9% pure silver and will ship with a certificate of authenticity. The 1 kilo coin carries a face value of 300 Yuan while the one ounce coin is l0 Yuan.
China 60th Anniversary 1 Kilo Silver Coin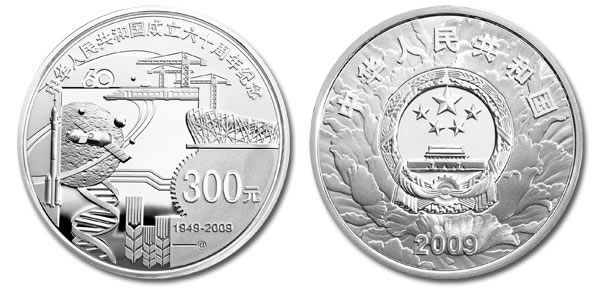 For more information, please visit the official coin distributor Panda America at www.PandaAmerica.com.