2009 Silver Panda Coins from China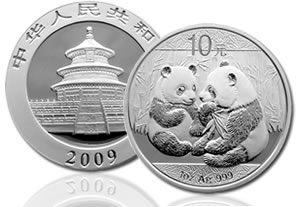 Chinese Panda coins are popular all over the world due mostly to their remarkable designs, bullion purity and a pedigree going back to the early 80s.
The newest Silver Panda coin continues the tradition of a one-year-only theme. The affectionate design is exceptional, and sure to be one of the most charming of 2009.
The People's Bank of China released the 2009 Panda Silver Brilliant Uncirculated coin in December of 2008. Like previous years, the obverse or heads side of the coin has the same design depicting the Temple of Heaven in Beijing. The reverse, however, is brand new as it is every year. It bears an endearing image of two baby pandas sitting and eating in a field of bamboo.
Coin Specifications and Pricing
The BU silver Panda coins are struck in an ounce of 99.9 percent silver, are Chinese legal tender, denominated in 10 yuan, and have a diameter of 40 millimeters. A maximum mintage of 600,00 is authorized.
A Google search will bring up a variety of coin dealers who sell Panda coins. PandaAmerica is a leading US distributor of the series and currently has them listed for $27 each.
2008-dated coins are no longer minted by China, but are still available at PandaAmerica for $39 (proof 1 kilo and 5 oz sizes are still for sale as well).
[phpbay]2009 China Panda Silver Coin, 4, "", ""[/phpbay]
Large images of the Brilliant Uncirculated 2009 Panda coin follow: