James Monroe Gold, Clad, and Silver Commemorative Coins Proposed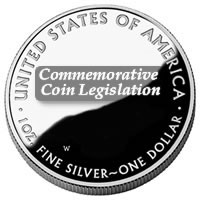 For a second time, legislation has been introduced that, if passed into law, would authorize the U.S. Mint to strike gold, clad, and silver commemorative coins to honor the fifth President of the United States, James Monroe.
Entitled the James Monroe Commemorative Coin Act and numbered H.R. 2968, the bill was reintroduced by Rep. Rob Wittman, R-VA on September 20, 2011. The legislation is Wittman's second try following a nearly identical bill, H.R. 4329, that he introduced in December, 2009.
H.R. 2968 calls for the U.S. Mint to strike the coins in 2016, the bicentennial of Monroe's Presidential election. Each coin would include inscriptions of 2016, Liberty, In God We Trust, United States of America, and E Pluribus Unum.
The specifications for each commemorative coin would be:
maximum of 20,000 $50 gold coins composed of one troy ounce of gold, weigh 33.931 grams, and have a 32.7 millimeter diameter
maximum of 275,000 $1 silver coins composed of 90% silver and 10% copper, weigh 26.73 grams, and have a 1.5 inch diameter
maximum of 500,000 half dollar clad coins that would weigh 11.34 grams and have a 1.205 inch diameter
While the silver dollar and half dollar have normal modern commemorative coin specifications, the gold coin would be larger, heavier, and carry a higher face value than others.
The commemoratives would have a specific obverse design, one of Monroe that is based on Rembrandt Peale's 1830 portrait, and a reverse that would depict Monroe's birthplace as it was drawn and published by the Colonial Williamsburg Foundation, also in 1830.
For legislation to become law, it must pass in both houses, and get signed by the President. H.R. 2968 has been referred to the House Committee on Financial Services.