Junk Silver Coins Soar in Value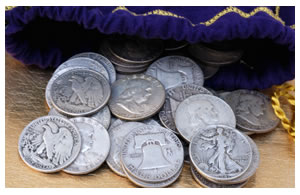 With silver prices rallying to levels that have not been seen in 30 years, interest in United States coins that circulated in 1964 and before has skyrocketed. Many of them include silver, and those that do are worth far more than their face values.
Bags and rolls of these "junk silver coins" have become hot items, and harder to find.
Junk silver coins, a term often used to describe older coins that have no real worth to collectors but contain 90% silver, have intrinsic values that have soared right along with silver prices.
Simply stated, "intrinsic value" is the market value of the metals contained within the coin. For example, in more modern terms, a bullion American Silver Eagle contains one troy ounce of silver, making its intrinsic value equal to the current market price of an ounce of silver. As each Silver Eagle only has a legal face value of one US dollar, it becomes clear how the intrinsic value of a coin can be worth much more than the denomination struck on each piece. Some also refer to this as a coin's melt value.
Keeping that in mind, silver has shown remarkable strength of late, as the price of an ounce on October 6 was fixed in London to $22.92. This is an increase of $5.93, or 34.9%, from where it stood on December 31, 2009.
To show how sharp junk silver coin prices have climbed just this year, the chart below (based on this site's US Silver Coin Values page) compares the intrinsic values of old United States coinage.
Melt Values for Junk Silver Coins
Silver Coin Types
Silver Coin Face
Values

Coin Melt
Values (December 31, 2009)

Coin Melt Values (October 6, 2010)
2010
Increase
1942-1945 Jefferson Nickel

$0.05

$0.96

$1.29

$0.33

1916-1945 Mercury Dime

$0.10

$1.23

$1.66

$0.43

1946-1964 Roosevelt Dime

$0.10

$1.23

$1.66

$0.43

1932-1964 Washington Quarter

$0.25

$3.07

$4.14

$1.07

1916-1947 Walking Liberty Half Dollar

$0.50

$6.15

$8.29

$2.14

1948-1963 Franklin Half Dollar

$0.50

$6.15

$8.29

$2.14

1964 Kennedy Half Dollar

$0.50

$6.15

$8.29

$2.14

1965-1970 Kennedy Half Dollar

$0.50

$2.51

$3.39

$0.88

1878-1921 Morgan Dollar

$1.00

$13.14

$17.73

$4.59

1921-1935 Peace Dollar

$1.00

$13.14

$17.73

$4.59

1971-1976 Eisenhower Dollar (40% Silver)

$1.00

$5.37

$7.25

$1.88

American Silver Eagle (1 oz)

$1.00

$16.99

$22.92

$5.93
Coin melt values based on daily silver spot prices may be calculated using this site's Silver Coin Melt Calculator.
There are a few important things to keep in mind when looking at the intrinsic or melt value of a coin. First of all, the numbers shown above are based on the amount of silver in the coin when it was originally struck by the United States Mint. It does not take into account any wear and tear that a coin may have received during its life, which could result in a slightly lower silver content.
Second, many older coins actually have a higher numismatic value than their intrinsic value. Numismatic values are what a coin is worth on the market to other collectors based on its condition and rarity. A rare coin in excellent condition could be worth many times its face value or its intrinsic value.
Still, for collectors of coins containing silver, it is a good idea to keep the intrinsic value of those coins in mind when contemplating the sale or purchase of them.