Lincoln Bicentennial Silver Dollar for 2009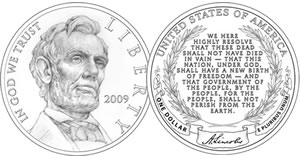 The United States Mint revealed Lincoln designs for the 2009 commemorative silver dollar coin honoring the bicentennial anniversary of Lincoln's birth.
The Mint joined the Abraham Lincoln Bicentennial Commission (ALBC) during the annual Dedication Day Ceremony at Soldiers' National Cemetery in Gettysburg on November 19 to unveil the designs.
The timing was particularly appropriate as it was the 145th anniversary of the cemetery's dedication by Lincoln and his historic Gettysburg Address. The final words of which are inscribed within a laurel wreath on the Lincoln silver dollar reverse.
WE HERE HIGHLY RESOLVE THAT THESE DEAD SHALL NOT HAVE DIED IN VAIN – THAT THIS NATION, UNDER GOD, SHALL HAVE A NEW BIRTH OF FREEDOM – AND THAT GOVERNMENT OF THE PEOPLE, BY THE PEOPLE, FOR THE PEOPLE, SHALL NOT PERISH FROM THE EARTH.
The obverse, or "heads" side of the coin portrays Lincoln, and was inspired by Daniel Chester French's famous sculpture of the President inside the Lincoln Memorial in Washington, D.C.
Two co-chairmen of the ALBC, U.S. Senator Dick Durbin (D-IL) and Representative Ray La Hood (R-IL), sponsored the original legislation, which authorizes up to 500,000 coins with a silver content of 90 percent.
"Abraham Lincoln is a true American hero whose enormous courage and strength of character during some of our nation's most tumultuous times have been sources of inspiration for generations of Americans," said Durbin.

"From modest Midwestern roots, he rose to the Presidency through his intelligence, integrity and commitment to the nation that he loved. As we approach the bicentennial of Lincoln's birth, this commemorative coin is a fitting tribute to his life and legacy."
The coin will join four newly designed circulating pennies that also celebrate the 200th anniversary of Lincoln's birth in 2009.
The United States Mint will begin accepting orders for the Abraham Lincoln Commemorative Silver Dollar in early 2009. $10 surcharges for each sale will be paid to the ALBC.
About the Abraham Lincoln Bicentennial Commission
Congress established the Abraham Lincoln Bicentennial Commission to plan the nation's celebration of the 16th president's 200th birthday in 2009. The Commission works to engage the broadest range of individuals and groups in the commemoration. Its members, who are appointed by the president and congressional leaders, include political leaders, jurists, historians, and collectors.
Large Lincoln coin design images: