Louis Braille Bicentennial Silver Dollar Release Set for March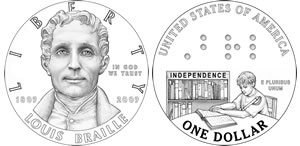 The United States Mint has set preliminary launch dates for several 2009 coin products, including the Louis Braille Bicentennial Silver Dollar.
The up to 400,000 collector proof and uncirculated silver coins will be issued beginning on March 26, according to the latest Mint product schedule.
The schedule it never set in stone or encompasses every Mint product, but a coin release is generally firm when there is an actual date placed beside it.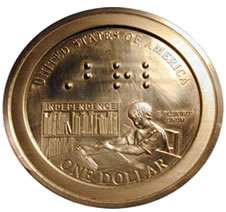 The coin honors the bicentennial birth of Louis Braille. The Mint first released designs and a prototype of the commemorative silver coin in July of 2008 during the National Federation of the Blind (NFB) annual convention in Dallas, Texas. Braille lost his sight at the age of three after injuring himself with an awl in the shop of his father Rene, a maker of harnesses and other objects of leather.
The silver dollar was authorized in Public Law 109-247, which also lists several prominent Louis Braille achievements — most notable is the creation of Braille code, which brings literacy to the blind and visually impaired. Braille uses no more than 6 dots in a 'cell' of 2 columns of 3 dots each to represent each letter and contains a system of punctuation and of 'contractions' to speed writing and reading.
The Louis Braille Bicentennial Silver Dollar will be the first U.S. coin ever struck that contains readable Braille characters. The dots in the coin design spell "Brl," which is the contraction for Braille.
"I am pleased that the United States Mint is playing a role in the cause of bringing literacy to all blind and visually impaired Americans," said Director Moy.
Three other coins — the Alabama state quarter and 1995 and 1996 Paralympic Silver Dollars — also had Braille, but were too small to be read by the visually impaired.
Each commemorative Braille coin will weigh 26.73 grams, have a diameter of 1.500 inches, and contain 90 percent silver and 10 percent copper.
For additional resources, read:
Large Braille coin design images from the United States Mint follow: