Lincoln Coin and Chronicles Set Issued Today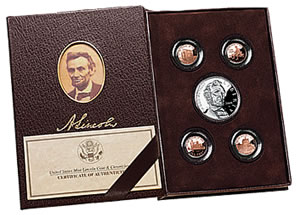 As a reminder, the Lincoln Coin and Chronicles Set will be issued today, Oct. 15, at noon ET by the United States Mint.
The US Mint first added the set to its online store in September, and ever since, excitement has been building in the collector community.
The price of the commemorative product is $55.95, plus a standard $4.95 shipping and handling charge. There is a one (1) order limit per household enforced, with 50,000 the maximum available.
The set is the last way to obtain an Abraham Lincoln Proof Silver Dollar from the US Mint — the same commemorative silver coin that sold out individually earlier in the year with 325,000 gone in less than six weeks time. As discussed earlier in the week on Silver Coins Today and mentioned atop this article, there is considerable anticipation for collectors in getting their hands on one. There are even a few individuals already offering them in the secondary market for substantial premiums. (See Lincoln Coin and Chronicles Set auctions on eBay
.)
In addition to the silver dollar, the set also includes:
Four 2009-S Lincoln Proof Copper Cents
A reproduced Abraham Lincoln photograph
A reproduction of the Gettysburg Address in Lincoln's handwriting
A certificate of Authenticity
Encasement in a slip-covered leather-like tri-fold case
The 2009 Lincoln pennies are specially composed of 95 percent copper and 5 percent tin and zinc — the exact alloy used to make the inaugural 1909 Lincoln penny which celebrated the 100th anniversary of Lincoln's birth.
At noon ET, the 2009 Lincoln Coin and Chronicles Set may be ordered from the United States Mint Web site at http://www.usmint.gov/, or directly here.
Orders may also be placed at the toll-free number 1-800- USA-MINT (872-6468). Hearing- and speech-impaired customers may order by calling 1-888-321-MINT (6468).