2009 Lincoln Chronicles Set Excitement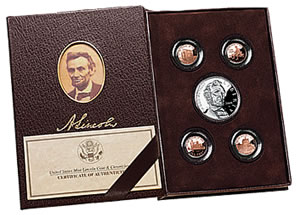 Excitement is certainly gathering in anticipation of the US Mint's release of the 2009 Lincoln Coin and Chronicles Set this Thursday, Oct. 15, at noon (Eastern Time).
The coin-related online blogs and news sites have been warning readers of the high likelihood of a one day sell-out of the sets, and that is even with the household order limit in place by the Mint of one per household.
While you could hardly classify the pre-launch interest as a frenzy, or even call it the same level we experienced for the Lincoln Cents, perhaps it should be. The Mint had 325,000 of the Abraham Lincoln Commemorative Silver Proof Dollars (the same one that will be included in the Lincoln Chronicles set) available earlier this year. They sold out in 43 days.
For one reason or another, some collectors were caught unaware, and found themselves without a proof Lincoln, or simply wanted more. The secondary markets, such as eBay, provided options to those individuals, but at a significant premium. Even today, eBay still shows listings for the proof coins selling for well over $70, which is at least $30 over the original price.
Interested collectors can even find the Chronicles sets available for pre-sell on eBay from ambitious individuals. The premiums demanded for this set is even higher than it is for the single coin. It will be available from the US Mint for $55.95, but the cheapest seen on eBay as of this writing was $144 more than that. One auction is even asking $1000! (See Lincoln Coin and Chronicles Set auctions on eBay
.)
Only 50,000 of the Lincoln Coin and Chronicle Sets will be available, so those that are interested better plan some time on Thursday to call, order online, or maybe try both since it will undoubtedly be a busy time at the Mint.
The set can be ordered directly from the United States Mint Web site at http://www.usmint.gov, or by calling the toll-free number 1-800- USA-MINT (872-6468). Hearing- and speech-impaired customers may order by calling 1-888-321-MINT (6468).
For more information on the set, also view 2009 US Lincoln Coin and Chronicles Set Added.