2009 Lincoln Commemorative Silver Dollars: The Coins, Prices, Images and History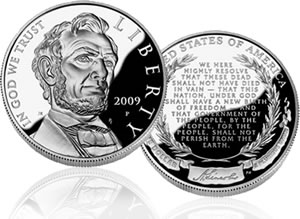 The bicentennial celebration of Abraham Lincoln's birth kicked off in earnest on his birthday, Thursday, Feb. 12, with the launch of the 2009 Lincoln Commemorative Silver Dollars and the release of the first of four newly designed Lincoln cents. The release of four new First-Class Lincoln commemorative stamps on Monday, Feb. 9, started the celebratory ball rolling.
The life of Lincoln
Abraham Lincoln (February 12, 1809 – April 15, 1865) was the 16th President of the United States, and is often ranked 1st or 2nd — sometimes following George Washington — by Americans when asked who was the greatest president.
Lincoln led the Nation through the Civil War, issued the Emancipation Proclamation in 1863 that declared forever free those slaves within the Confederacy, and promoted the passage of the Thirteenth Amendment to the Constitution, which abolished slavery and was passed several months after Lincoln was assassination at Ford's Theatre in Washington by John Wilkes Booth.
The whitehouse.gov Lincoln biography recites a passage Lincoln wrote about his youth five months before receiving his party's nomination for President:
"I was born Feb. 12, 1809, in Hardin County, Kentucky. My parents were both born in Virginia, of undistinguished families–second families, perhaps I should say. My mother, who died in my tenth year, was of a family of the name of Hanks…. My father … removed from Kentucky to … Indiana, in my eighth year…. It was a wild region, with many bears and other wild animals still in the woods. There I grew up…. Of course when I came of age I did not know much. Still somehow, I could read, write, and cipher … but that was all."
Lincoln married Mary Todd on November 4, 1842. He had four boys, but only the first son, Robert, lived to adulthood. Mary died on July 16, 1882, more than 17 years after Lincoln was assassinated.
Commemorative stamps
The 42-cent stamps — officially unveiled Monday at the Old State Capitol State Historic Site in Springfield, IL — chronicle Lincoln's life as a rail-splitter, lawyer, politician and a president. The stamp art was drawn by Mark Summers of Waterdown, Ontario, Canada.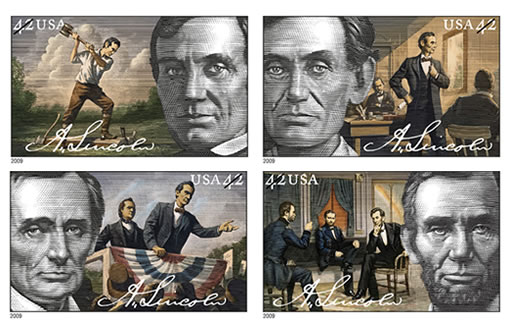 Four 2009 Lincoln cents
In similar fashion, the four 2009 Lincoln cent designs also depict major aspects of Lincoln's life: his birth and childhood in Kentucky, his formative years in Indiana, his professional life in Illinois and his Presidency in Washington, D.C.

When the 2009 Lincoln cent designs were revealed, United States Mint Director Ed Moy said:
"This is a momentous occasion in the history of our Nation's coinage because these designs represent the first change in the Lincoln cent in half a century.

These coins are a tribute to one of our greatest Presidents whose legacy has had a lasting impact on our country. He believed all men were created equal, and his life was a model for accomplishing the American dream through honesty, integrity, loyalty, and a lifetime of education."
The cents beautifully portray facets of Lincoln's life, with the first cent officially launched into circulation on Feb. 12, at the Abraham Lincoln Birthplace National Historic Site, in Hodgenville, Kentucky. (See large 2009 Lincoln Penny images, or the website dedicated to the coins, 2009 Lincoln Pennies.)
Lincoln Silver Dollar Coins and Prices
The commemorative silver coins are struck in both proof and uncirculated versions and have a different theme compared to the cents or stamps. Lincoln Silver Dollar designs were revealed by the Mint on November 19 during the annual Dedication Day Ceremony at Soldiers' National Cemetery in Gettysburg.
The timing was particularly appropriate as it was the 145th anniversary of the cemetery's dedication by Lincoln and his historic Gettysburg Address. The final words of which are inscribed within a laurel wreath on the Lincoln silver dollar reverse.
WE HERE HIGHLY RESOLVE THAT THESE DEAD SHALL NOT HAVE DIED IN VAIN – THAT THIS NATION, UNDER GOD, SHALL HAVE A NEW BIRTH OF FREEDOM – AND THAT GOVERNMENT OF THE PEOPLE, BY THE PEOPLE, FOR THE PEOPLE, SHALL NOT PERISH FROM THE EARTH.
The reverse was designed and executed by United States Mint Sculptor-Engraver Phebe Hemphill.
The obverse, or "heads" side of the coin portrays Lincoln, and was inspired by Daniel Chester French's famous sculpture of the President inside the Lincoln Memorial in Washington, D.C. It was designed by Justin Kunz and engraved by Don Everhart.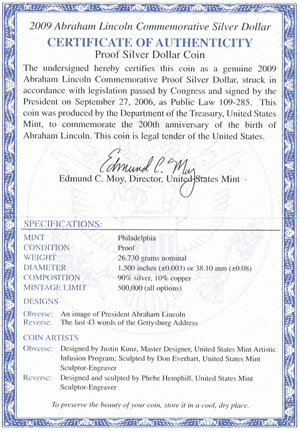 Lincoln Silver Dollar Coin Specifications
Coin specifications follow, as provided by the United States Mint:
Mint: Philadelphia
Condition: Proof or Uncirculated
Weight: 26.730 grams nominal
Diameter: 1.500 inches (+-0.003) or 38.10 mm (+-0.08)
Composition: 90% silver, 10% copper
Mintage Limit: 500,000 (all options)
Silver coin prices and order details
[***Update: The US Mint inventory of individual proof and uncirculated coins has sold out. For more information, read 2009 Lincoln Silver Dollars Commanding Premiums.]
For more information or to place online orders, visit the United States Mint product pages with the following introductory prices:
Abraham Lincoln Commemorative Proof Silver Dollar – $37.95
Abraham Lincoln Commemorative Uncirculated Silver Dollar – $31.95
Introductory pricing will be available from the first day of sale until March 16, 2009, at 5:00 pm ET. After, the following prices will be in affect:
Description

Mintage

Introductory Price

Regular Price

Proof Lincoln $1

500,000*

$37.95

$41.95

Uncirculated Lincoln $1

$31.95

$33.95

Lincoln Coin and Chronicles Set**

50,000

$55.95

$55.95
* Up to 500,000 across all product options, including the special set. ** The price and launch date for the special US Mint Lincoln Coin and Chronicles Set is Oct. 15 at noon ET.
The US Mint will also accept orders for the Abraham Lincoln Commemorative Silver Dollar at www.usmint.gov or at 1-800-USA-MINT (872-6468).
[phpbay]Lincoln Proof Silver Dollar, 4, "", ""[/phpbay]
2009 Lincoln Silver Dollar Images
Proof Lincoln Silver Dollar Image
Uncirculated Lincoln Silver Dollar Image