2009 Lincoln Silver Dollars Commanding Premiums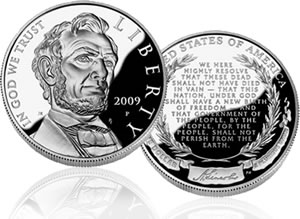 Sales of the 2009 Lincoln Commemorative Silver Dollars flew off US Mint store shelves so fast that their sell outs were not unexpected.
The uncirculated option sold out on March 24 and the proof went on March 27. In total, 450,000 coins were purchased (125k in uncirculated, 325k in proof) in a few shorts weeks — the coins went on sale on the 200th anniversary of Abraham Lincoln's birth, which was February 12.
With the US Mint inventory sold, collector's eyes had to turn to the secondary market. And based on current eBay auctions, the coins are commanding a premium in top grades, with bidders exceptionally active.
Here are four current eBay auction links for 69/70 graded Lincolns:
While top graded coins will always sell for more, consider that the Mint first offer the proof coin for $37.95 and the uncirculated for $31.95. Buyers who were luckily enough to receive a MS 70 or PF 70 coin from the Mint are indeed smiling.
For coin collectors unwilling to jump in at the current prices in the secondary market, there is at least one more shot to buy proof Lincoln silver dollars directly from the Mint. Later this year the Mint will offer up to 50,000 in the 2009 Lincoln Coin and Chronicles Set, which contains a proof silver dollar and 95% copper proofs of each of the four 2009 Lincoln Pennies.
Collectors will have to act quickly when they are made available (a release date has not yet been set). With such a huge demand already being seen for commemorative Lincolns and only 50,000 sets available, there is a very good chance it will sellout on the very first day.