Lincoln Chronicles Sets Explode and Sell Out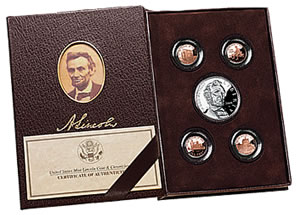 The US Mint's 2009 Lincoln Coin and Chronicles Set went on sale at noon on Thursday, Oct. 15. Within five hours, a total of 29,919 were grabbed by coin collectors. By the following day and before 6:00 p.m. ET, the Mint sold its entire inventory of 50,000.
As of this writing, the Mint is only taking standby orders in the event cancellations occur.
The set excitement level was expected to be high, with many collectors predicting a sell out on the very first day. That did not happen, although the Mint's phone lines were backed up and its web site mostly down for several hours following the launch. In fact, at times it was so bad that the Mint issued an apology to customers for their experience.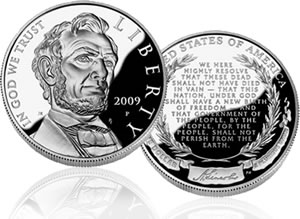 The Lincoln Coin and Chronicles Set contains only one silver coin — the Lincoln Commemorative Silver Proof Dollar. But it was that coin, which sold out individually earlier in the year to the tune of 325,000, that was key to the set's success.
At an issue price of $55.95, the Lincoln Chronicles set was less expensive than single Lincoln silver dollars on the secondary market. Of course, the other coins and special set packaging helped as well, and they include:
Four 2009-S Lincoln Proof Cents
A reproduced Abraham Lincoln photograph
A reproduction of the Gettysburg Address in Lincoln's handwriting
A certificate of Authenticity
Encasement in a slip-covered leather-like tri-fold case
While coin collectors can sign up for the Mint's waiting list here in the hopes of getting lucky, many eyes have already turned to the secondary market.
Prior to the Chronicles set's launch, the least expensive pre-sale price found on eBay on Oct. 13 was still more than $200. Only a handful were available. As of this writing, more than 160 are currently up for auction with some 180 already listed as completed. In a bit of good news, it looks like premiums are down some with the majority selling within the $150 range. (See Lincoln Coin and Chronicles Set auctions on eBay
.)
For more information on the set, also view US Lincoln Coin and Chronicles Set Added.