Ronald Reagan Commemorative Silver Dollar and $5 Gold Coin Proposed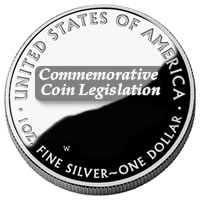 New legislation has been introduced in the U.S. House of Representatives that would honor Ronald Reagan, the 40th President of the United States, with commemorative silver dollars and $5 gold coins.
The Ronald Reagan Commemorative Coin Act of 2011, H.R. 497, was introduced by Ohio's Congressman Bob Latta on January 26, 2011. The legislation, the first in 2011 related to coinage, has language that would authorize a maximum of 300,000 Ronald Reagan commemorative silver dollars and 50,000 Ronald Reagan commemorative $5 gold coins.
The bill is similar to five other versions introduced in prior sessions of Congress dating back to 2001. Each of those bills, S. 1143, H.R. 4669, S. 2517, H.R. 932, and H.R. 3341, failed to garner enough support to pass in either the Senate or House, and died from inaction following the ending sessions of the 107th, 108th, 109th, and 111th Congresses.
H.R. 497 has the current support of 28 cosponsors. However, its passage seems less likely as the bill would dictate an inscription referencing Reagan's "100 birthday in 2011." The actual anniversary day is today, February 6, 2011. What would seem to put the legislation in jeopardy is the fact that the coins would not be minted until 2017, with inscriptions on the silver dollars and $5 gold pieces also showing "2017." Coins honoring a 100th anniversary but debuting on the 107th year will face higher roadblocks.
The obverse our heads side of each commemorative coin would feature an image of Ronald Reagan. The reverse or tails side would bear a design that is similar to the depiction of an American eagle carrying an olive branch, flying above a nest containing another eagle and hatchlings — that depiction is what is shown on the reverse of American Gold Eagle coins since their introduction in 1986.
The commemorative coins would be minted in both collector proof an uncirculated qualities. The silver dollars would have a composition of 90 percent silver and 10 percent copper while the $5 gold coins would be struck from 90 percent gold and 10 percent alloy. Their coin specifications would be similar to other U.S. commemoratives. (Learn about modern Silver Commemorative Coins.)
For the Ronald Reagan Commemorative Coin Act of 2011 to become law, it must be passed in the House, Senate, and get signed by the President. H.R. 497 has been referred to the House Committee on Financial Services.