Silver Coins and Set Demand Declines, US Mint Sales Show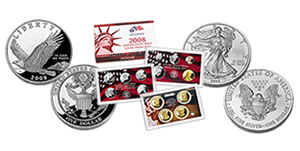 There is little surprise in learning that last week's US Mint silver coin sales show a general decline in demand. Collectors were, after all, off and enjoying the recent three-day holiday weekend for the 4th of July.
Sales in four of the six silver Mint offerings fell compared to the prior week. Experiencing modest gains in week-over-week tallies were uncirculated Braille dollars in the easy-open capsule and the 2008 Silver Proof Set.

In related news, Silver Eagles soared past 14M during the first week of July. The bullion investment coins are on pace to smash record-breaking year 2008 when 20,583,000 of the silver dollars were sold. As of Monday, 14,099,500 silver eagles were purchased by US Mint authorized dealers.
The following table has the latest US Mint stats for collector silver coins and sets.
U.S. Mint Silver Coin Sales Stats
(Sales compare previous to current Mint figures)
Previous Sales

New Sales

Unit Increase

% Increase

Mintage Limit

2008 American Eagle Silver Dollar Proof*

713,353

713,353

0

0.00%

none

2008 American Eagle Silver Dollar Uncirculated*

444,558

444,558

0

0.00%

none

2009 Lincoln Silver Proof*
325,000
325,000
0
0.00%

500,000

2009 Lincoln Silver Uncirculated*
125,000
125,000
0
0.00%
2009 Braille Silver Proof
112,735
113,400
665
0.59%
400,000
2009 Braille Silver Uncirculated
42,472
42,703
231
0.54%
Braille Uncirculated in Easy-Open Capsule
18,118
18,262
144
0.79%
2009 Quarters Silver Proof Set
202,320
207,114
4,794
2.37%
none
2008 Annual Uncirculated Dollar Coin Set
68,214
68,956
742
1.09%

none

2008 U.S. Mint Silver Proof Set
769,787
772,893
3,106
0.40%

none
*Coin products with an asterisk are no longer available. July 5 is the "as of date" for the most recent US Mint figures.
The previous reported sales figures are located at Silver Coin Demand Fluid, US Mint Sales Figures Show. The Silver Coins Today tool page Mint Prices & Sales has been updated with the latest Mint sales figures.