Silver Coin Demand Fluid, US Mint Sales Figures Show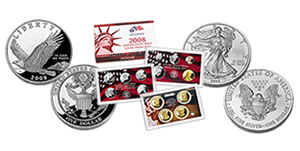 In typical fashion of late, the demand for US silver coins and sets flows differently depending on the week, with both ups and downs.
Of the six silver products sold, the latest US Mint sales figures have four with modest increases and two easing lower.
The down shifters were:
DC & US Territories Quarters, gaining 6,173 more compared to the prior week's 6,491
Uncirculated Braille Silver Dollars in the easy-open capsule, gaining 102 versus the prior 191
The following table has the latest silver coin stats:
U.S. Mint Silver Coin Sales Stats
(Sales compare previous to current Mint figures)
Previous Sales

New Sales

Unit Increase

% Increase

Mintage Limit

2008 American Eagle Silver Dollar Proof*

713,353

713,353

0

0.00%

none

2008 American Eagle Silver Dollar Uncirculated*

444,558

444,558

0

0.00%

none

2009 Lincoln Silver Proof*
325,000
325,000
0
0.00%

500,000

2009 Lincoln Silver Uncirculated*
125,000
125,000
0
0.00%
2009 Braille Silver Proof
111,311
112,735
1,424
1.28%
400,000
2009 Braille Silver Uncirculated
42,020
42,472
452
1.08%
Braille Uncirculated in Easy-Open Capsule
18,016
18,118
102
0.57%
2009 Quarters Silver Proof Set
196,147
202,320
6,173
3.15%
none
2008 Annual Uncirculated Dollar Coin Set
67,267
68,214
947
1.41%

none

2008 U.S. Mint Silver Proof Set
767,121
769,787
2,666
0.35%

none
*Coin products with an asterisk are no longer available. June 28 is the "as of date" for the most recent US Mint figures.
In other related news, silver eagle bullion sales surged in June. The month was the third best of the year for the coins. 13,824,500 have been sold during the first six months.
The previous reported sales figures are located at US Mint Silver Coin Sales Mixed with Highs and Lows. The Silver Coins Today tool page Mint Prices & Sales has been updated with the latest Mint sales figures.