US Mint Silver Coin Sales Mixed with Highs and Lows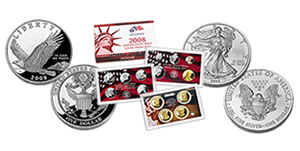 While the latest figures for US Mint collector silver coins and sets sales show a mixture of ups and downs, the overall picture appears less than exciting.
The "winner" in the week-over-week comparison for both a unit and percentage increase was the DC & US Territories Quarters. The set rose by 3.42 percent for another 6,491 — yet, still substantially lower than the prior week when 10,374 were scooped up.
Braille Dollars dipped with the exception of those sold within the easy-open capsule. The total across all three production options is now up to 171,347. A reasonably strong showing for a commemorative coin. In saying that, the likelihood of a 400,000 strong sell out appears distant.
In the investor realm, American Eagle Silver bullion sales added another 425,000 during the third week of June. The total sold for 2009 is up 13,349,500 as of June 22. This figure makes the collector coin numbers seem rather small.
In related silver coins news, the US Mint's updated schedule now has the 2009 Silver Proof Set scheduled for release on July 17.
U.S. Mint Silver Coin Sales Stats
(Sales compare previous to current Mint figures)
Previous Sales

New Sales

Unit Increase

% Increase

Mintage Limit

2008 American Eagle Silver Dollar Proof*

713,353

713,353

0

0.00%

none

2008 American Eagle Silver Dollar Uncirculated*

444,558

444,558

0

0.00%

none

2009 Lincoln Silver Proof*
325,000
325,000
0
0.00%

500,000

2009 Lincoln Silver Uncirculated*
125,000
125,000
0
0.00%
2009 Braille Silver Proof
109,957
111,311
1,354
1.23%
400,000
2009 Braille Silver Uncirculated
41,642
42,020
378
0.91%
Braille Uncirculated in Easy-Open Capsule
17,825
18,016
191
1.07%
2009 Quarters Silver Proof Set
189,656
196,147
6,491
3.42%
none
2008 Annual Uncirculated Dollar Coin Set
66,521
67,267
746
1.12%

none

2008 U.S. Mint Silver Proof Set
765,076
767,121
2,045
0.27%

none
*Coin products with an asterisk are no longer available. June 21 is the "as of date" for the most recent US Mint figures.
The previous reported sales figures are located at Silver Sets Decline, Braille Dollars Rise. The Silver Coins Today tool page Mint Prices & Sales has been updated with the latest Mint sales figures.