US Silver Coin Sales: Silver Sets Decline, Braille Dollars Rise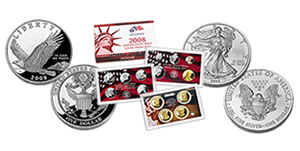 The newest Mint sales figures show Braille Silver Dollars rising and silver sets declining, a 180-degree reversal compared to the prior week's numbers.
Considering the uncirculated Braille coins actually went through a negative correction last time, there is little surprise they moved higher, but only by 499.
The silver DC & US Territories Quarters added another 10,374 for a total of 189,656 sets sold. Not bad, but the level is weaker than prior weeks. Sales of the other two silver sets — especially the 2008 US Mint Silver Proof Set — were also lower, as shown below.
U.S. Mint Silver Coin Sales Stats
(Sales figures compare previous to current Mint sales figures)
Previous Sales

New Sales

Unit Increase

% Increase

Mintage Limit

2008 American Eagle Silver Dollar Proof*

713,353

713,353

0

0.00%

none

2008 American Eagle Silver Dollar Uncirculated*

444,558

444,558

0

0.00%

none

2009 Lincoln Silver Proof*
325,000
325,000
0
0.00%

500,000

2009 Lincoln Silver Uncirculated*
125,000
125,000
0
0.00%
2009 Braille Silver Proof
108,558
109,957
1,399
1.29%
400,000
2009 Braille Silver Uncirculated
41,212
41,642
430
1.04%
Braille Uncirculated in Easy-Open Capsule
17,756
17,825
69
0.39%
2009 Quarters Silver Proof Set
179,282
189,656
10,374
5.79%
none
2008 Annual Uncirculated Dollar Coin Set
65,791
66,521
730
1.11%

none

2008 U.S. Mint Silver Proof Set
763,056
765,076
2,020
0.26%

none
*Coin products with an asterisk are no longer available.
The previous reported sales figures are located at Braille Dollars Retreat, Silver Sets Rise.
The Silver Coins Today tool page Mint Prices & Sales has been updated with the latest Mint sales figures.
Visit the CoinNews collector tool page Mint Price Guide for tables of common collector gold and platinum coin stats, or First Spouse Coin Prices for coin stats of the First Ladies.
In related silver coins news, the US Mint ended silver eagle rationing on Monday, which should lead to lower premiums on the bullion coins and perhaps minting of 2009 collector silver eagles sooner instead of much later.