US Silver Coin Sales: Braille Dollars Retreat, Silver Sets Rise – June 10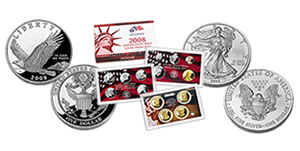 The latest US Mint sales stats show renewed interest in silver coins and sets, with the exception of Braille Silver Dollars.
For whatever reason — accounting corrections, customer returns, etc. — uncirculated Louis Braille Silver Dollar numbers plunged to levels reported some two to three weeks back. Compared to last week's report, the single uncirculated dollar dropped by 583 coins while those within the easy-open capsule retreated 1,488. Only the proof option increased, rising by 1,033.
DC & US Territories Quarters Silver Proof Set sales were on a tear for the second consecutive week. 15,579 additional were sold bringing the total up to 179,282.
Demand for the 2008-dated Annual Uncirculated Dollar Set and the US Mint Silver Proof Set also increased. (The former includes a 2008 American Eagle Silver coin, which is no longer sold separately.)
Here are the latest numbers:
U.S. Mint Silver Coin Sales Stats
(Sales figures compare previous to current Mint sales figures)
Previous Sales

New Sales

Unit Increase

% Increase

Mintage Limit

2008 American Eagle Silver Dollar Proof*

713,353

713,353

0

0.00%

none

2008 American Eagle Silver Dollar Uncirculated*

444,558

444,558

0

0.00%

none

2009 Lincoln Silver Proof*
325,000
325,000
0
0.00%

500,000

2009 Lincoln Silver Uncirculated*
125,000
125,000
0
0.00%
2009 Braille Silver Proof
107,525
108,558
1,033
0.96%
400,000
2009 Braille Silver Uncirculated
41,795
41,212
-583
-1.39%
Braille Uncirculated in Easy-Open Capsule
19,244
17,756
-1,488
-7.73%
2009 Quarters Silver Proof Set
163,703
179,282
15,579
9.52%
none
2008 Annual Uncirculated Dollar Coin Set
65,033
65,791
758
1.17%

none

2008 U.S. Mint Silver Proof Set
758,034
763,056
5,022
0.66%

none
*Coin products with an asterisk are no longer available.
The previous reported sales figures are located at Quarters Silver Proof Set Shines – June 3.
As a reminder, Lincoln Silver Dollar figures remain unchanged. The maximum amount of individual coins have sold out, leaving 50,000 proof coins reserved for the special 5-coin set coming later this year. As yet another reminder, the Mint has yet to strike 2009 collector silver eagles. (Over 1.9 million 2009 bullion silver eagles were sold in May alone.)
The Silver Coins Today tool page Mint Prices & Sales has been updated with the latest Mint sales figures.
Visit the CoinNews collector tool page Mint Price Guide for tables of common collector gold and platinum coin stats, or First Spouse Coin Prices for coin stats of the First Ladies.