Silver Ends Below $12, Down 13.6% in Four Weeks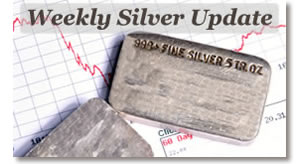 Silver and gold prices declined as platinum gained, marking the fourth straight week of the same cycle. Of all precious metals, silver fell the hardest.
London spot silver on Friday ended at $11.98 an ounce. The metal has dropped 32 cents, or 2.6 percent, from the prior week's close of $12.30. Silver has declined 13.6 percent for a fall of $1.86 since it hit $13.65 an ounce on Friday, March 20.

In New York trading futures, silver for May delivery plunged 54 cents, or 4.4 percent. The metal closed to $11.79 an ounce on Friday compared to the previous week $12.33 ending.
The following tables lists recent London spot precious metal prices:
London Fix Precious Metal Prices

Gold

Silver

Platinum

Palladium

AM

PM

AM

PM

AM

PM

4/9/2009
883.75
880.50
12.30
1205
1195
233
235
4/17/2009
872.00
870.50
11.98
1213
1215
234
233
Dollar and Percent Changes

4/9-4/17

Gold

Silver

Platinum

Palladium

$ Change

-$10.00
-$0.32
$20.00
-$2.00

% Change

-1.1%
-2.6%
1.7%
-0.9%
These articles offer week ending precious metals news: