Silver Prices Jump in January 2013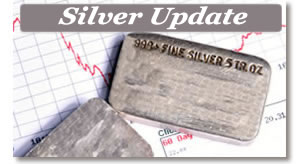 Silver scored its first monthly gain in 2013, though prices did dive on the last trading day of January.
On Thursday, silver prices for March delivery declined 82.6 cents, or 2.6%, to settle at $31.35 an ounce on the Comex in New York.
The white metal traded from an intraday low of $31.12 an ounce to a high of $32.13 an ounce.
Gold prices, as well as those for silver, were "slammed" Thursday morning "as the market failed to find new buying near the key resistance area of $1,680-$1,690," Jason Rotman, president at Lido Isle Advisors in Newport Beach, Calif., wrote in emailed comments relayed on MarketWatch.

"With the euro rallying significantly, and the U.S. stock market not really affected by the negative GDP reading, gold traders took profits at the top of the range."
On Wednesday, gold and silver prices soared on safe-haven demand after the Commerce Department said the U.S. economy contracted 0.1% in the fourth quarter of 2012 — the first quarterly decline since the second quarter in 2009. The GDP in the previous quarter, from July through September, grew 3.1%.
U.S. silver prices in January 2013 jumped $1.12, or 3.7% after soaring $2.31, or 8.3%, in 2012.
As for other major precious metals futures prices in New York on Thursday and for January 2013:
April gold ended at $1,662.00 an ounce for a January loss of $13.80, or 0.8%,
April platinum closed at $1,675.40 an ounce for a monthly gain of $133, or 8.6%, and
March palladium settled at $745.70 an ounce for a January increase of $42.35, or 6%
Also on Thursday, the London silver Fix was $32.03 an ounce for a pick-up of 68 cents, or 2.2%. In January 2013, London silver gained $2.08, or 6.9%.
Then in other London bullion prices, gold at $1,664.75 an ounce inched up less than 0.1% for the month, palladium at $739.00 an ounce advanced 5.7% in January and platinum at $1,672.00 an ounce shot up 9.8% for the month.