Silver Prices Jump Over $23, Fourth Weekly Gain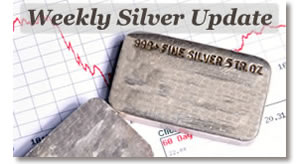 U.S. silver prices moved in the same direction as gold, only faster. Price soared to above $23 an ounce, closing to a new 30-year high and marking four straight weekly gains.
Gold rose 2.1 percent this week, advancing on the weakness of the U.S. dollar as expectations increased that the Federal Reserve would ease its monetary policy to feed inflation and stimulate the economy. Silver investors took note as well, as the metal soared 4.7 percent for the week.
On Friday, silver futures for December delivery surged 52.1 cents, or 2.3 percent, to settle at $23.105 an ounce on the Comex in New York — its best close since 1980. It reached an intraday high of $23.53 on Thursday. For the week, silver prices advanced $1.045. They rose 66.1 cents, or 3.1 percent, last week.
"Like gold, silver is affected by the global currency crisis and as the dollar continues to weaken, silver prices will continue to increase. As the price of silver trades at a 30 year high and as the price has increased by 31% in less than six weeks, everyone is asking if there is going to be a correction," wrote David Levenstein on Mineweb in an article entitled Strong momentum in silver drives prices to 30 year high.

"Well, of course there will be corrections, but I am not sure if we will see it occur at these levels or if we will see it once the price of silver hits $25. But, as long-term investor who cares? I am not in the business of trying to time every move in the market and believe that it is impossible to do that. However, the longer term bullish trend is very much intact and the price has a long way to go before it peaks."
Silver has now performed better than gold for a fourth straight week, trimming the silver-to-gold ratio to 58.23. That compares to last Friday's ratio when it took 59.74 ounces of silver to buy one ounce of gold.
The London silver Fix price was $22.37 an ounce — the third highest level of the week, or two slots lower than the $23.38 fixing on Thursday. London silver still rose 42 cents, or 1.9 percent, this week after adding 60 cents, or 2.8 percent, last week.
Breaking a two-week streak, demand for bullion American Eagle silver coins retreated despite the continuation of 30-year high silver prices. The bullion coins had been on fire after dipping early in September. Their numbers rose 425,000, which was down from the prior rally of 985,000, and the one before that of 830,000. Year-to-date sales did break the magic 26 million barrier, with 230,500 on top of that. The .999 fine silver coins are only 2,536,001 away from breaking last year's annual record of 28,766,500.
U.S. Mint 2010 American Eagle Silver Coin Sales
Prior Weekly Gain
Current Weekly Gain
October 2010
2010 Totals
Bullion 1 oz
985,000
425,000
750,000
26,230,500
Bullion weekly price charts for New York and London follow:
New York Futures Precious Metal Prices

December
Gold
December
Silver
January
Platinum
December
Palladium
10/1/2010
1317.80
22.060
1682.10
574.90
10/8/2010
1345.30
23.105
1708.70
587.60
New York Futures Weekly Changes

Up
Down
% Change
Gain/Loss
Silver
X
4.7%
$1.045
Gold
X
2.1%
$27.50
Platinum
X
1.6%
$26.60
Palladium
X
2.2%
$12.70
London Fix Precious Metal Prices

Gold
Silver
Platinum
Palladium
AM
PM
AM
PM
AM
PM
10/1/2010
1313.00
1316.25
21.95
1669.00
1679.00
570.00
571.00
10/8/2010
1330.50
1341.50
22.37
1688.00
1683.00
575.00
572.00
London Weekly Bullion Changes

Up
Down
% Change
Gain/Loss
Silver
X
1.9%
$0.42
Gold
X
1.9%
$25.25
Platinum
X
0.2%
$4.00
Palladium
X
0.2%
$1.00
For daily levels, check out the spot silver page.