Silver Prices Rally Friday: 3.8% London Weekly Gain; 4.4% in N.Y.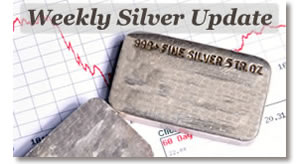 In a week of seesaw action, silver prices rallied on Friday to finish with weekly gains of 3.8 percent in London and 4.4 percent in New York.
For the week, New York silver prices for September delivery jumped 62 cents, to close at $14.784 an ounce. The metal started the week strong, lost air and mostly flattened in mid-week, and finally soared Friday with a 56.4 cent gain.
London silver prices jumped 53 cents on the week. Following a rise on Monday to $14.41, silver dipped to $14.11, recovered to $14.32, dipped again to $14.20, and then surged Friday to $14.54 an ounce.
London silver is up $3.75, or 34.75 percent, this year following the $10.79 closing price on Dec. 31, 2008. It is down from its peak in May, however, when it jumped higher by $4.73, or 43.8 percent.
London precious metal weekly prices follow:
London Fix Precious Metal Prices

Gold

Silver

Platinum

Palladium

AM

PM

AM

PM

AM

PM

8/21/2009
941.50
952.50
14.01
1232.00
1239.00
272.00
275.00
8/28/2009
950.75
955.50
14.54
1234.00
1244.00
286.00
289.00
Dollar and Percent Price Changes

Up

Down

% Change

$ Change

Silver
X

3.8%

$0.53

Gold
X

0.3%

$3.00

Platinum
X

0.4%

$5.00

Palladium
X

5.1%

$14.00
These articles offer precious metals and silver coin news:
For daily silver news and prices, visit Silver Spot Prices.