Silver Ends with Weekly Gain, Despite Friday Fall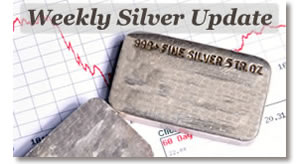 Silver ended the week up in London and New York despite a pullback on Friday following a government report that helped drive the US dollar to its biggest gain since 1999, making precious metals less attractive.
A Labor Department report released Friday showed employers cut fewer jobs in November, bringing the unemployment rate down to 10 percent from 10.2 percent.
With that, gold tumbled and silver followed. Still, the metal marked a 6.1 percent increase in London and a 1.2 percent rise in New York.
New York silver futures for March delivery — the new, most active contract — ended Friday at $18.52 an ounce. In contrast, the December contract closed last Friday at $18.302 an ounce, accounting for the 1.2 percent, or 21.8 cent difference.
London silver was fixed at $18.83 an ounce, rising $1.09 for the week. It reached a high on Wednesday of $19.18 an ounce. Despite a Friday decline of 28 cents, the metal is still up $8.04, or 74.5 percent from the $10.79 London price set on Dec. 31, 2008.
London precious metal weekly prices follow:
London Fix Precious Metal Prices

Gold

Silver

Platinum

Palladium

AM

PM

AM

PM

AM

PM

11/27/2009

1128.75

1104.00

17.74

1418.00

1424.00

363.00

369.00

12/4/2009
1203.25
1190.25
18.83
1484.00
1472.00
382.00
378.00
Dollar and Percent Price Changes

Up

Down

% Change

$ Change

Silver
X

6.1%

$1.09

Gold
X

2.0%

$23.75

Platinum
X

3.4%

$48.00

Palladium
X

2.4%

$9.00
These articles offer precious metals and silver coin news:
For daily silver news and prices, visit Spot Silver.