Silver Weekly Prices Fall with Friday Thumping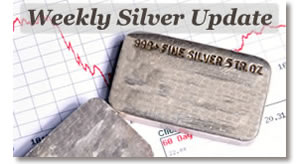 U.S. silver prices were headed for a positive week until tumbling 57.4 cents Friday, tracking other precious metals, commodities and equities losses after sour consumer sentiment data and a flat inflation report unleashed broad selloffs.
New York silver futures moved within a 80.5 cent range during the week, with its intraday high of $18.535 reached on Thursday followed by its intraday low of $17.730 on Friday.
Silver for September delivery closed to its lowest point of $17.788 an ounce, falling 28.5 cents or 1.6% for the week.
"The silver market bulls will suggest that September silver contract has managed to respect a pattern of higher lows and higher highs this week, while the bear camp in silver will point out that the market hasn't been able to sustain a move above the $18.50 level on the charts," noted Neil Sloan via StockMarketsReview.com on Friday.

"The bear camp also seems to be playing up the prospect of slowing in the US economy and the prospect of weakness in physical commodities because of the slackening macro economic view from the US numbers… However, the gold market and the equity markets continue to be major forces for silver prices." added Sloan.
Based on New York futures closing prices, the current gold to silver ratio is 66.8 to 1, nearly unchanged as compared to last week when 1 ounce of gold bought 66.9 ounces of silver.
The London silver fix ended at $18.250 an ounce, rising 38 cents or 2.1% for the week. The London market closed prior to the negative news that surfaced in the U.S. London silver's high was on Thursday at $18.420 an ounce while its low came on Tuesday at $18.000.
In silver coins news this week, 2010 American Silver Eagle bullion coins topped the annual sales from 2008. Numismatic silver demand was sluggish, however. For more on these topics, read the SilverCoinsToday.com article 2010 Silver Eagles Top 2008 Sales in 6.5 Months.
In recapping final weekly sales, bullion Silver Eagles had showed no movement between Tuesday and Thursday, and then advanced 171,500 on Friday. July eagle sales now stand at 1,648,000 while their year to date total is 19,816,500.
Precious metal weekly prices follow from New York and London:
New York Futures Precious Metal Prices

August
Gold

September

Silver

October
Platinum

September
Palladium

7/9/2010
1209.80
18.073
1533.20
456.95
7/16/2010
1188.20
17.788
1512.10
448.60
New York Futures Weekly Changes

Up

Down

% Change

Gain/Loss

Silver
X

-1.6%

-$0.285

Gold
X

-1.8%

-$21.60

Platinum
X

-1.4%

-$21.10

Palladium
X

-1.8%

-$8.35
London Fix Precious Metal Prices

Gold

Silver

Platinum

Palladium

AM

PM

AM

PM

AM

PM

7/9/2010
1196.25
1208.75
17.870
1525.00
1527.00
448.00
454.00
7/16/2010
1204.75
1189.25
18.250
1518.00
1512.00
463.00
456.00
London Weekly Bullion Changes

Up

Down

% Change

Gain/Loss

Silver
X

2.1%

$0.38

Gold
X

-1.6%

-$19.50

Platinum
X

-1.0%

-$15.00

Palladium
X

0.4%

$2.00