Weekly Silver Prices Rally to 6.9% in NY and 5.8% in London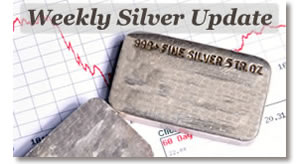 In a continuation of the seesaw silver prices we discussed last Saturday, a fresh rally has tilted silver significantly higher — to the tune of weekly gains of 5.8 percent in London and 6.9 percent in New York.
New York silver futures for December delivery closed to $17.375 an ounce on Friday, dipping 3.5 cents. However, the metal still soared $1.12 higher on the week.
London silver was set to $17.525 an ounce, jumping 95 cents on the week. The metal retreated on Tuesday to $16.35, but quickly recovered with successive daily gains through to week's end. London silver is up $6.735, or 62.4 percent this year.
"Silver has proven itself, time and again, to be a safe haven for investors during times of economic uncertainty and, as such, with the current economy in difficulty the silver market has become a flight to quality investment vehicle," writes Lorimer Wilson on SilverSeek.com in an article entitled Current Gold:Silver Ratio Screams: Buy All Things Silver! "Silver has considerable upside potential short term (to $22), medium term (to $32) and long term (to $51 and beyond)."
"I believe we are about to see some temporary carnage in the stock and commodities markets, and that will deeply affect silver prices," writes Avery Goodman on Seeking Alpha in an article entitled Silver Prices Are About to Fall. "I may be overly pessimistic, but, based on charts I've examined, the way I see things, silver prices could temporarily fall to $11 per troy, again, or even lower, before March 2010."
London precious metal weekly prices follow:
London Fix Precious Metal Prices

Gold

Silver

Platinum

Palladium

AM

PM

AM

PM

AM

PM

10/30/2009
1044.50
1040.00
16.57
1328.00
1320.00
327.00
324.00
11/6/2009
1095.00
1096.75
17.53
1362.00
1347.00
330.00
330.00
Dollar and Percent Price Changes

Up

Down

% Change

$ Change

Silver
X

5.8%

$0.95

Gold
X

5.5%

$56.75

Platinum
X

2.0%

$27.00

Palladium
X

1.9%

$6.00
These articles offer precious metals and silver coin news:
For daily silver news and prices, visit Silver Prices.