Weekly Silver Prices Tumble 3.3% in New York, 3.7% in London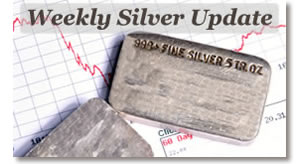 Silver prices turned lower to mark a second weekly negative trend following the metal's monstrous May surge.
New York silver futures for July delivery plunged to close Friday at $14.875 an ounce, tumbling 51.3 cents or 3.3 percent on the week.
Silver's picture in London was similar. London spot silver closed Friday at $15.07 an ounce, plunging 58 cents or 3.7 percent on the week.
The latest weekly numbers cut into the metal's 2009 gains. Yet, the figures are still impressive. Silver has surged 39.7 percent this year, rising $4.28 from the $10.79 closing price on December 31.
Here are week changing London precious metal prices:
London Fix Precious Metal Prices

Gold

Silver

Platinum

Palladium

AM

PM

AM

PM

AM

PM

6/5/2009
977.75
962.00
15.65
1293.00
1275.00
264.00
257.00
6/12/2009
950.00
937.25
15.07
1253.00
1241.00
255.00
252.50
Dollar and Percent Price Changes

Up

Down

% Change

$ Change

Silver

X

-3.7%

-$0.58

Gold

X

-2.6%

-$24.75

Platinum

X

-2.7%

-$34.00

Palladium

X

-1.8%

-$4.50
These articles offer week ending precious metals and silver coin news:
For daily silver news and prices, visit Spot Silver Prices.