Silver Prices in May Jump 26.6% in N.Y., 22.9% in London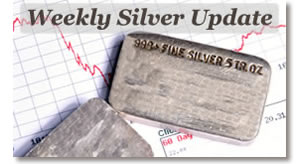 Silver had a monster month in May, recording the best month since 1987. According to most reports, prices soared as a result of inflation fears, weakness in the U.S. dollar and higher demand expectations with hopes of an economy recovery.
New York silver futures for July delivery ended Friday at $15.61 an ounce, soaring 91.5 cents, or 6.2 percent this week. The metal gained 4.9 percent the week prior, and has surged 26.6 percent in May.
London spot silver closed Friday at $15.52 an ounce, jumping 86 cents or, 5.9 percent this week. It was up 5.3 percent last week. London silver has gained 22.9 percent in May. Even more impressive, it has risen an astounding 43.8 percent this year, gaining $4.73 from the $10.79 closing price on December 31.
"Extreme dollar weakness is adding to the momentum," Pradeep Unni, an analyst at Richcomm Global Services in Dubai, was quoted on Bloomberg. "Ascending oil prices, concerns of inflation and fears of massive U.S. debt have certainly been supporting" both gold and silver.
Here are week changing London precious metal prices:
London Fix Precious Metal Prices

Gold

Silver

Platinum

Palladium

AM

PM

AM

PM

AM

PM

5/22/2009
952.50
959.75
14.66
1145.00
1149.00
231.00
234.00
5/29/2009
972.00
975.50
15.52
1163.00
1175.00
235.00
236.00
Dollar and Percent Changes

Up

Down

% Change

$ Change

Silver

X

5.9%

$0.86

Gold

X

1.6%

$15.75

Platinum

X

2.3%

$26.00

Palladium

X

0.9%

$2.00
These articles offer week ending precious metals and silver coin news:
For daily silver news and prices, visit Silver Spot Prices.