Silver Prices Jump more than 4% for Week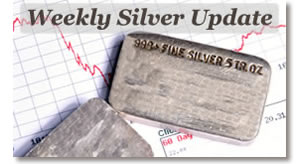 Precious metal prices soared in the middle of the week as news of the Feds plan to buy $1 trillion in securities sparked inflation fears, which is almost always positive for inflation-hedging commodities.
New York silver futures for May surged 62.5 cents, or 4.7 percent, to $13.84 an ounce. It closed last Friday at $13.215 an ounce.
London silver was on fire as well. In spot trading, the London silver fixing ended the week at $13.65 an ounce for a 54 cent, or 4.1 percent, gain.
The following tables lists London precious metal prices from Friday PM to Friday PM:
London Fix Precious Metal Prices

Gold

Silver

Platinum

Palladium

AM

PM

AM

PM

AM

PM

3/13/2009

920

928

13.11

1050

1048

197

198

3/20/2009

957

954

13.65

1118

1110

207

206
Dollar and Percent Changes

3/13-3/20

Gold

Silver

Platinum

Palladium

$ Change

$26.00

$0.54

$62.00

$8.00

% Change

2.8%

4.1%

5.9%

4.0%
These articles offer week ending precious metals news: