Silver Prices Jump 4.7% in London, 3.6% in New York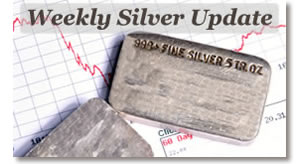 Silver gained for a second straight week as did the remaining precious metals. Silver was hotter than gold and platinum, however, with a 4.7 percent jump in London and 3.6 percent surge in New York.
New York silver futures for September delivery rose 47.7 cents on the week to close Friday at $13.88 an ounce.
London silver edged higher, gaining 62 cents this week to end Friday at $13.78 an ounce. It is now ahead $2.99, or 27.7 percent, this year following the $10.79 closing price on Dec. 31.
"Traders do see possible tests of the $14 level in the cards, but we do not have a polled participant survey result to offer for the white metal. Or, the aforementioned crystal ball, either," wrote Jon Nadler, senior analyst at Kitco Metals Inc.
London precious metal weekly prices follow:
London Fix Precious Metal Prices

Gold

Silver

Platinum

Palladium

AM

PM

AM

PM

AM

PM

7/17/2009
934.50
937.50
13.16
1169.00
1165.00
247.00
245.50
7/17/2009
949.75
951.50
13.78
1180.00
1186.00
257.00
258.00
Dollar and Percent Price Changes

Up

Down

% Change

$ Change

Silver
X

4.7%

$0.62

Gold
X

1.5%

$14.00

Platinum
X

1.8%

$21.00

Palladium
X

5.1%

$12.50
Silver is still down from its peak in May when it jumped $4.73, or 43.8 percent in London. These articles offer precious metals and silver coin news:
For daily silver news and prices, visit Silver Prices.