Silver Weekly Prices Jump 4.2% in New York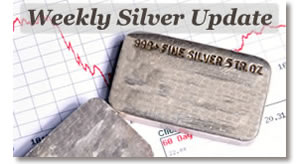 Silver prices marked gains in the second week in February after tumbling nearly 20% during the three prior weeks.
Despite slight losses on Friday, weekly silver prices jumped 4.2% in New York and 1.1% in London.
For the most part, silver followed gold's direction, and gold moved opposite of the US dollar. The greenback was driven mostly by news from Europe and China. The Greece debt crisis was a headline for much of the week, moving the dollar both up and down.
On Friday, precious metals dipped as the dollar rose when poorer-than-expected growth data was released for European Union countries, and China limited lending for the second time in a month to prevent overheating and inflation. These events also raised concerns over demand for industrial metals (silver, platinum, etc.) and other commodities.
For the week, New York silver futures for March delivery ended at $15.447 an ounce, surging 62 cents, or 4.2%. London silver was fixed at $15.33 an ounce, rising 16 cents, or 1.1% since last Friday.
On Friday, "the U.S. dollar rose to its strongest level against the euro since May 2009, as China's move and uncertainty surrounding a bailout plan for debt-stricken Greece pushed investors away from riskier assets. A stronger greenback often pressures commodities priced in dollars as they become more expensive for holders of other currencies," writes Joshua Schneyer of Reuters.
London precious metal weekly prices follow:
London Fix Precious Metal Prices

Gold

Silver

Platinum

Palladium

AM

PM

AM

PM

AM

PM

2/5/2010
1052.25
1058.00
15.17
1477.00
1475.00
387.00
395.00
2/12/2010
1078.25
1082.00
15.33
1513.00
1505.00
414.00
416.00
Weekly Bullion Prices

Up

Down

% Change

Gain/Loss

Silver
X

1.1%

$0.16

Gold
X

2.3%

$24.00

Platinum
X

2.0%

$30.00

Palladium
X

5.3%

$21.00
These articles offer precious metals and silver coin news:
Gold futures off Friday lows, remain higher for the week – MarketWatch
Gold and other metals futures fell on Friday, though they finished off lows, as a move by China , one of the world's biggest consumers of commodities, to slow the pace of bank lending triggered a rally in the U.S. dollar and a sell-off in commodities …
Gold Declines as Dollar Advances, Stocks Drop on China's Loans – Bloomberg
Gold prices fell as China unexpectedly increased bank-reserve requirements, sending commodities and equities lower, while boosting the dollar. The greenback jumped as much as 0.9 percent against a basket of major currencies, eroding the investment appeal of precious metals …
Neither a Borrower Nor [Mainly] a Lender Be… – Jon Nadler, Kitco
Yesterday's Greek-flavored gold rally turned into today's Chinese-tinged decline as the Beijing government flat-out demanded that banks freeze more money from being lent. The surprise but unsurprising move to raise reserve ratios by half a percent comes on the heels of a similar move on January 12 and will take effect on the 25th of the month.

As we warned in our article just two days ago, the fact that Chinese banks may have lent as much money during January as in the entire previous quarter, and did so despite the hike in requirements, pointed to this more aggressive move we saw materializing today. Also as pointed out previously, the Chinese lending-curb move is anything but commodities-friendly. In simple terms, where is the funding going to come from to load up on more speculative positions in copper, gold, and a slew of other 'stuff?' Well, obviously, not as much from local banks as previously …
For silver news and prices, also see Bullion Prices Today.