Silver Prices Jump 4.8% in Week, Up 61.3% in 2010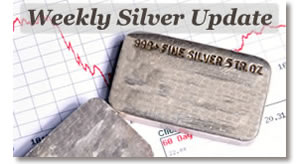 U.S. silver prices rebounded from losses last week to close above $27 an ounce, capping a weekly gain of 4.8 percent and notching a 2010 gain of 61.3 percent.
Silver prices for December delivery rose 34.5 cents, or 1.3 percent, to settle at $27.179 an ounce on the Comex in New York. For the week, silver jumped $1.237 after falling 80.6 cents last week.
Silver ended lower only once this week, plunging 86 cents on Tuesday after margin requirements were raised 11.5 percent by Chicago Mercantile Exchange (CME). Last week, CME implemented a 30 percent hike which pressured silver prices down by more than $2.
New York Silver Prices Daily Gains/Losses

Monday
Tuesday
Wednesday
Thursday
Friday
$0.150
-$0.859
$0.278
$1.323
$0.345
Silver quickly recovered. Prices increased the most on Thursday when the U.S. dollar softened and precious metals rallied.
What will silver prices be in 2011? GFMS had a forecast on that this week.
"GFMS still expect silver to trade over $30 in 2011," said a news release from the London-based research firm. "However, we are doubtful such elevated levels will be sustained throughout the year and, as a result, we see an annual average either side of $28 as more likely. We could also add that a retreat from over $30 would not necessarily imply an end to the multi-year rally in 2011."
GMS said that silver's fundamental demand should increase in 2011 due to industrial uses, but that the demand will be overshadowed by gains in supply as mine output rises.
"While this might appear bearish, we remain confident that investors will be of a mood to absorb the resultant, growing surplus, as key supports such as ultra-low interest rates, a weakening dollar and a buoyant gold market should remain with us, all of which should be easily enough to rally silver prices yet higher," GFMS said.
Silver's latest close brought the silver-to-gold ratio down to 49.76 as compared to 52.64 reading of a week ago.
London silver prices rose Friday to their highest point of the week. The silver Fix was $27.07 an ounce — the first time it reached above $27 since November 11. For the week, London silver prices gained 28 cents, or 1 percent. The metal is up $10.08, or 59.3 percent, in 2010.
United States Mint 2010 Silver Eagle bullion coins continue to dazzle. While the previous weekly sales increase of 1.685 million was the best in months, this week numbers were even higher. Sales of the silver coins shot up 1.835 million since last Friday, lifting their annual record to over 32 million.
The following table shows the latest United States Mint bullion silver coin figures:
2010 American Eagle Silver Bullion Coin Sales
Prior Weekly Gain
Current Weekly Gain
November 2010
2010 Total
Bullion 1 oz
1,685,000
1,835,000
3,775,000
32,405,500
Bullion weekly price charts for New York and London follow:
New York Futures Precious Metal Prices

December
Gold
December
Silver
January
Platinum
December
Palladium
11/12/2010
1365.50
25.942
1684.60
673.65
11/19/2010
1352.30
27.179
1671.10
703.70
New York Futures Weekly Changes

Up
Down
% Change
Gain/Loss
Silver
X
4.8%
$1.237
Gold
X
-1.0%
-$13.20
Platinum
X
-0.8%
-$13.50
Palladium
X
4.5%
$30.05
London Fix Precious Metal Prices

Gold
Silver
Platinum
Palladium
AM
PM
AM
PM
AM
PM
11/12/2010
1387.00
1388.50
26.790
1705.00
1712.00
684.00
703.00
11/19/2010
1357.50
1342.50
27.070
1665.00
1650.00
701.00
695.00
London Weekly Bullion Changes

Up
Down
% Change
Gain/Loss
Silver
X
1.0%
$0.28
Gold
X
-3.3%
-$46.00
Platinum
X
-3.6%
-$62.00
Palladium
X
-1.1%
-$8.00