Silver Prices Near $27, Surge 8.9% in Week and 58.8% in 2010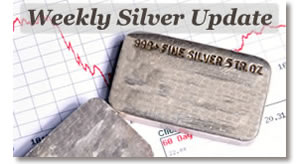 U.S. silver prices surged 8.9 percent this week and settled at a fresh 30-year high for a second straight Friday.
The metal kicked into high gear Thursday, one day after the Federal Reserve announced new quantitative easing measures in an attempt to kick-start the American economy. Investors are betting that those measures will weaken the U.S. dollar and eventually spark inflation, making commodities like silver more attractive.
By Friday, silver prices not only finished at their highest level of the week, but at one point came 8.5 cents away from $27 an ounce.
Silver futures prices for December delivery rallied 70.5 cents, or 2.7 percent, to settle at $26.748 an ounce on the Comex in New York. Prices dipped twice in their closing this week, but were insignificant when compared to the other daily gains.
New York Silver Prices Daily Gains/Losses

Monday
Tuesday
Wednesday
Thursday
Friday
-$0.012
$0.284
-$0.400
$1.607
$0.705
Silver rose $2.184 for the week, which followed last week's increase of $1.446. Silver prices are up $9.90, or 58.8 percent in 2010.
"Silver is experiencing the kind of demand that marks historic bull markets. Gains of the extent that it is displaying are evidence of distressed shorts being mercilessly attacked by strong handed bulls," wrote Chris Mullen of Gold-Seeker.com. "Keep in mind that these shorts are not weak-handed, having had their way with this market for many years but it is clear from the extent of the gains being produced that large, well-funded and determined buyers have come into the silver pit with a steely determination to engage their enemies. A large contingent of the silver bears are hemorrhaging seriously and are beginning to abandon the field."
The precious metal again outperformed gold, slashing the silver-to-gold ratio to 52.25. It took 55.27 ounces of silver to buy one ounce of gold last Friday.
London silver prices rallied as well. The silver Fix was at its highest point Friday, set at $26.14 an ounce for a weekly gain of $2.18, or 9.1 percent. Levels dipped slightly Tuesday, but marked increases throughout the rest of the week. Prices are now 53.9 percent higher this year based on the fixing of $16.99 an ounce on December 31, 2009.
A late rally lifted United States Mint Silver Eagle bullion coin sales to 3.51 million last month, resulting in their best ever October — a significant feat given the .999 fine silver coin series debuted back in 1986. The weekly gain of 805,000 easily topped last week's performance. But more importantly, it cemented 2010 as the new Silver Eagle annual record holder. With nearly two months remaining in the year, sales have already reached 28,855,500 and have passed last year's annual record record of 28,766,500.
The following table shows the latest U.S. Mint bullion silver coin figures:
2010 American Eagle Silver Coin Sales
Prior Weekly Gain
Current Weekly Gain
November 2010
2010 Total
Bullion 1 oz
250,000
805,000
255,000
28,855,500
Bullion weekly price charts for New York and London follow:
New York Futures Precious Metal Prices

December
Gold
December
Silver
January
Platinum
December
Palladium
10/29/2010
1357.60
24.564
1707.10
645.10
11/5/2010
1397.70
26.748
1768.90
685.40
New York Futures Weekly Changes

Up
Down
% Change
Gain/Loss
Silver
X
8.9%
$2.184
Gold
X
3.0%
$40.10
Platinum
X
3.6%
$61.80
Palladium
X
6.2%
$40.30
London Fix Precious Metal Prices

Gold
Silver
Platinum
Palladium
AM
PM
AM
PM
AM
PM
10/29/2010
1336.75
1346.75
23.960
1683.00
1700.00
629.00
640.00
11/5/2010
1384.25
1395.00
26.140
1760.00
1764.00
678.00
687.00
London Weekly Bullion Changes

Up
Down
% Change
Gain/Loss
Silver
X
9.1%
$2.18
Gold
X
3.6%
$48.25
Platinum
X
3.8%
$64.00
Palladium
X
7.3%
$47.00